Summary:
Intel Corporation Q4 earnings were quite poor, and we hypothesized there would be a future issue with shareholder returns.
The market was pricing in a dividend in jeopardy.
Cost savings are being implemented.
If the market can stabilize here and Intel stock doesn't move too much, it would suggest confidence in management.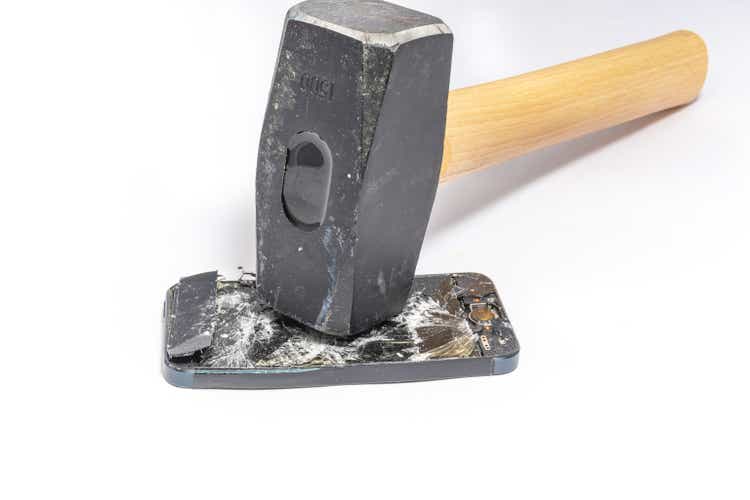 Intel Corporation (NASDAQ:INTC) saw its stock rise in the January-effect rally, but INTC stock has been in some pain ever since its Q4 earnings, which were far worse than had been anticipated. In our recent discussion of the results, we had questioned whether the dividend was safe. We had hypothesized that another quarter like Q4 and the company's dividend would likely be on the block. However, we did believe that Intel would do all it could to preserve the dividend.
Today, Intel dropped the hammer, and just cut its dividend. While we are not in any way shocked by the action given the financial reality of the company, we thought it would not happen until later in this year. That caught us by surprise today. The market thus far is not reacting too poorly to this news. The market was pricing in a possible cut, and shares are down on the news at the time of this writing, but the company will still pay a dividend and it will help the company in its broader goals of fiscal stability. Thus, the market is not punishing Intel Corporation too hard. However, INTC was likely in the high dividend income section of a lot of investors' portfolios, so we would not be surprised to see some dividend growth investors rotating out of this stock in favor of higher and safer dividend-yielding companies. Let us discuss.
If Intel Corporation shares stabilize here, this could be a longer-term buying opportunity in the mid-$20's. The company is not going out of business, but the poor earnings had called into question the dividend safety. Where we were wrong was in the timing. We thought management would keep the dividend going as long as possible so as not to lose more shareholders, but the move may restore confidence in management protecting the company, and that remains to be seen. If the stock stabilizes, it would be a sign of confidence in the move. But, this dividend cut could send shares to levels not seen in decades.
So the company dropped the hammer and slashed the quarterly dividend to $0.125 per share per quarter. The new dividend will be payable on June 1, 2023, to stockholders of record on May 7, 2023. Pat Gelsinger, CEO of Intel, was very brief about this cut:
"Prudent allocation of our owners' capital is important to enable our IDM 2.0 strategy and sustain our momentum as we rebuild our execution engine."
Was this necessary? Well keep in mind the Q4 results really were that bad. Intel badly missed estimates on the top and bottom lines. Revenue was down 28% from a year ago. Gross margins narrowed again while operating margins were down. Net income was down 92% from last year's earnings to $$0.10. The company is trying to get spending under control, which is good news for fiscal stability, and we thought there was room to refocus R&D costs further. $3 billion in cost reductions are on the table, including layoffs and leaning out of segment spend. These cuts will help save money. The company did update us today on this.
The $3 billion in cost savings will be seen in 2023, but the company is "on the path to $8 billion to $10 billion in annualized savings by the end of 2025." This includes the layoffs and the efforts to reduce other operating expenses. Another step being taken is that the company is temporarily reducing compensation and rewards programs for employees and executives. In addition to the dividend cut, the board of directors has decided to temporarily reduce its compensation as well.
Once we saw the news flash of this cut, our first concern was that Q1 must be a disaster. When Intel reported, they guided for Q1 revenue of $10.5-$11.5 billion and 39% adjusted margins. One positive piece of news in addition to elaborating on the cost savings was that the company reaffirmed this guidance this morning.
Final thoughts
This cut, while the timing seemed a bit out of sorts, is coming with a bunch of other cost-saving measures. The fourth quarter was terrible, and with the margin compression, Q1 will see losses. Intel Corporation management decided to drop the hammer. The chip cycle is coming into a trough, which we believe will be later this year or early next, so there is likely light at the end of this tunnel. Today, we want to see how the market reacts. Stabilization of Intel Corporation stock today would be a very healthy sign, but we could see shares fall, too, as investors rotate out.
Your voice matters
Do you see any positives in the quarter being restated? Do you agree with the Intel Corporation cut being done now? Should they have eliminated it? Or was it the right level to keep the stock in certain ETFs and portfolios? Should investors sell this if they own it in their dividend growth portfolios? Do you think the market is going much lower in the coming months?
Let the community know below.
---
Disclosure: I/we have a beneficial long position in the shares of INTC either through stock ownership, options, or other derivatives. I wrote this article myself, and it expresses my own opinions. I am not receiving compensation for it (other than from Seeking Alpha). I have no business relationship with any company whose stock is mentioned in this article.
---
We make winners. Come make money with us
Like our thought process? Stop wasting time and join the traders at BAD BEAT Investing at a 60% off sale!
Our hedge fund analysts are available all day during market hours to answer questions, and help you learn and grow. Learn how to best position yourself to catch rapid-return trades, while finding deep value for the long-term.
Available all day during market hours with a vibrant chat
Rapid-return trade ideas each week from our hedge fund analysts
Crystal clear entries, profit taking, and stop levels
Deep value situations
Stocks, options, trades, dividends and one-on-one attention