It Is What It Is, Intel Is A Buy
Summary:
I reiterate the buy rating I gave Intel last December 26. The Sapphire Rapids Xeon server processors tout better AI performance than AMD's EPYC.
INTC trades below $30. It still has more upside potential because its one-year performance is still -47%.
My near-term price target for INTC is still $31.20. This PT could happen after Q4 F2022 numbers are reported this coming January 26.
Nvidia is helping Intel sell more AI-centric Xeon server processors. Intel is needed by Nvidia to compete better against AMD.
I guesstimate that Nvidia could help sell 200k units of the $17k Sapphire Rapids Xeon 8490H server processor.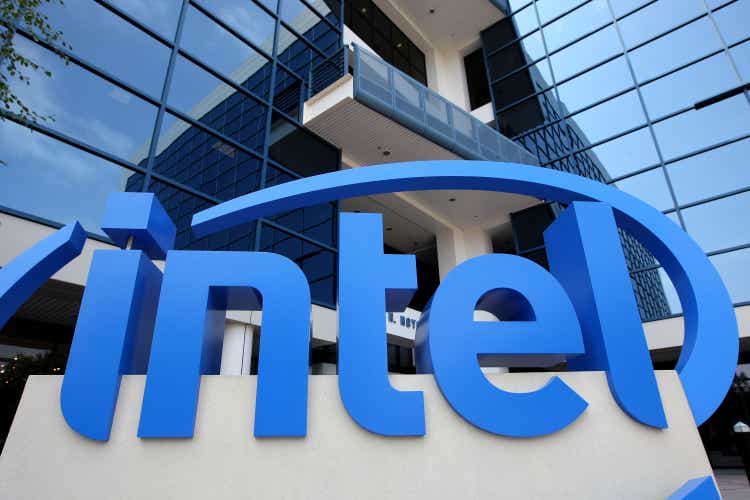 Investment Thesis
The new AI hardware partnership between Intel (NASDAQ:INTC) and NVIDIA (NVDA) is why you should accumulate more INTC shares. This alliance reinforces my December 26 rebound buy thesis for Intel. Nvidia has an extensive list of global AI consultant partners. INTC could shoot up above my price target of $31.2. This confident assessment is based on experience derived from my past 141 INTC analyses here at Seeking Alpha. INTC's performance since my December 26 buy thesis is +13.06%. Unfortunately, its one-year return is still -47%. The stock has more comeback potential.
INTC is a buy before its FQ4 2022 ER this coming January 26. Nvidia's help could Intel take back some of that 17.5% market share that AMD recently gained on x86 server processors. This partnership could help Intel avoid a repeat of Q3's 0% operating margin on its Data Center and AI Group. or DCAI segment.
The AI hardware business that Nvidia currently dominates, is also a growth driver for Intel. INTC is a cheap investment in the fast-growing Artificial Intelligence hardware industry. This niche market had a 2021 estimated revenue of $10.41 billion and a 26.96% CAGR. I guesstimate that 2022's AI hardware revenue, therefore, was $13.2 billion, and 2023 would be $16.8 billion.
INTC's TTM GAAP P/E is only 8.80x. NVDA is far more expensive at 71.18x TTM GAAP P/E valuation. The attractive opportunity now is that an Intel Sapphire Rapids Xeon Max processor is coupling with an Nvidia H100 GPU.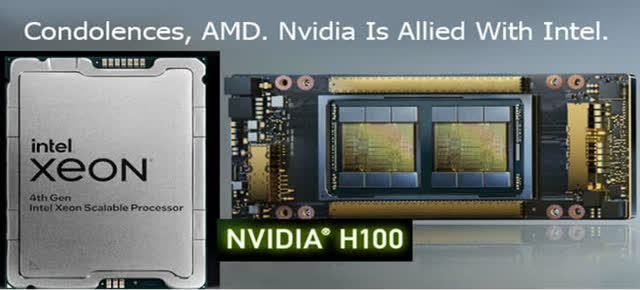 INTC previously traded as high as $30.38 during the past 25 days. Adding more to your INTC exposure is worth a gambit. The stock is still affordable at 14.02x forward GAAP P/E valuation. Intel has not announced any reduction in its dividend payments. The estimated FQ4 2022 EPS is still $0.20, and a full-year EPS of $1.95. Intel remains a highly profitable entity with a TTM net income margin of 19.13%. This profitability could improve further thanks to the continuing job cuts that Intel is implementing.
Accumulate more INTC because the latest 4th-gen Sapphire Rapid Intel Xeon Max series of server processors tout competitive benchmark performance scores. The Node.js performance of the latest Intel Xeon server flagship processor is impressive. Node.js has an AI vibe that mixes well with this AI hardware-focused article. The screenshot below is valuable. There are now 30 million estimated websites using Node.js. Top companies are using Node.js.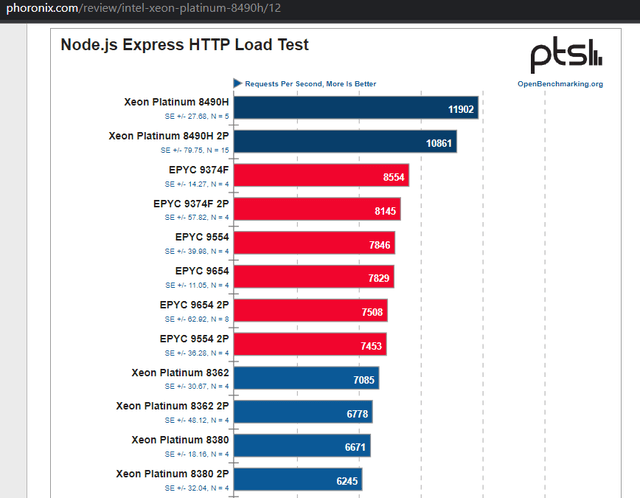 The 60-core Intel Xeon 8490H has a notably higher TensorFlow 2.0 ResNet-50 score than the 96-core EPYC 9654 server processor from Advanced Micro Devices (AMD). The Genoa EPYC 9654's reported price tag is $11,805. Intel's recommended price for the Xeon 8490H is $17,000.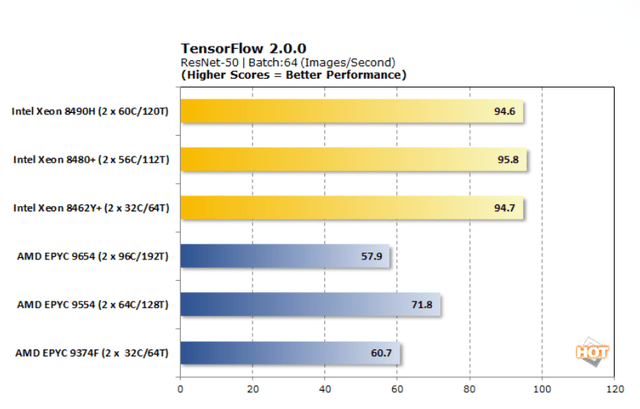 The Xeon 8490H also delivers better performance under the SMHasher 1.1.0 benchmark.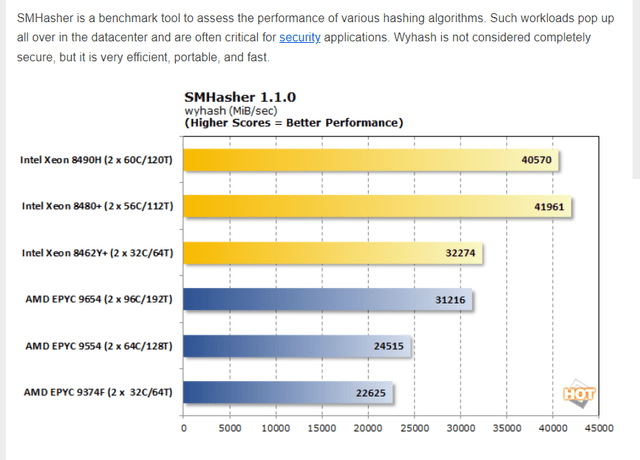 Intel's future as an AI-centric hardware vendor is strong if you based it on the robust performance of the Xeon 8490H under oneDNN 3.0.0 recurring neural network training workload testing.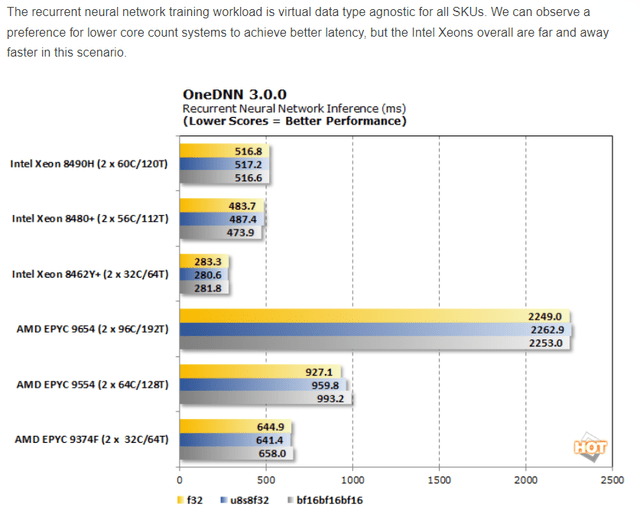 HotHardware concluded that AMD's higher core-count EPYC processors are still better for conventional/traditional workloads. However, the main push of this thesis is that Intel has the dominant AI x86 processor for neural computing/machine learning/deep learning. This fact is a very compelling reason you should accumulate more INTC.
Intel's DCAI operating margin could improve thanks to the partnership with Nvidia. Going forward, I guesstimate that Nvidia's data center customers could help sell Intel at least 200k units of that $17k Xeon 8490H processor. That's up to $3.4 billion in potential revenue from this one Sapphire Rapids processor alone. There are affordable, lower-priced 4th-gen scalable Xeon processors that Nvidia could bundle in its different Hopper H100 systems.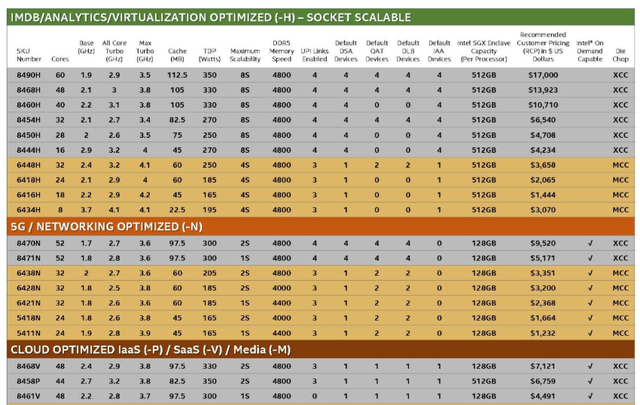 The chart above illustrates that Intel Xeons could match the price tags of AMD's Genoa EPYC processors. There are already 100 million Xeon processors installed to date. I doubt if AMD will ever hit 30% market share on x86 server processors anytime soon. Intel respects its Xeon users. It is not killing its $100 to $250 per key VROC (Virtual Raid on CPU) for Xeon customers.
Software Toolkits Optimized for Its AI Hardware
Intel's oneAPI Toolkit can accelerate applications on Intel-made GPUs. I'm looking forward to it also eventually accelerating Nvidia GeForce and A100/V100/H100/P100 GPUs. The same is true with Intel's no-code OpenVINO AI toolkit. It officially only supports acceleration on Intel-made GPUs. Nvidia's CUDA is only officially available for that company's GPUs. I speculate that the partnership between Intel and Nvidia on AI hardware might just eventually result in a cross-platform AI/ML/DL framework. I opine the new AI hardware partnership could probably extend to software collaboration between Intel and Nvidia.
Intel has an OpenCL SDK. The oneAPI and OpenVINO Toolkits come with OpenCL 2.1 support. Nvidia is now OpenCL 3.0 conformant. Nvidia GPUs support OpenCL applications. The proprietary CUDA Toolkit is reportedly faster than OpenCL because it is created specifically for Nvidia GPUs. The OpenCL standard was designed for the portability of applications. It works on any VPUs, CPUs, GPUs, and FPGAs.
The enemy of my enemy is my friend…
Intel is an emerging AI software and hardware company that, instead of competing, is instead teaming up with the leader Nvidia. I opine that cooperation with a leading rival is always good for any negative growth company like Intel. The long-term growth potential is obvious. Intel is supplying its 4th-generation Sapphire Rapids Xeon scalable x86 server processors in a bundle with Nvidia's $36,000 Hopper H100 AI-centric data center systems. The Nvidia H100 GPUs were already in production last September. This marketing tandem with Nvidia data center GPUs could boost Intel's $25 billion/year DCG segment.
Intel could regain some of that 17% market share of Advanced Micro Devices on x86 server processors. I assess that the 0% operating margin of the DCG in Q3 is Intel reducing the price tags of Xeon processors to decelerate the growth of AMD on x86 server processors. Jon Peddie Research's Q3 2022 data.
Symbiotic Alliance
This new alliance is even though Intel offers its Max Series of GPUs as alternatives to Nvidia's A100, H100, and V100 data center GPUs. I assess that Nvidia had no choice but to ally up with Intel. Advanced Micro Devices now offers a data center bundle of an x86 EPYC server processor, Xilinx FPGA accelerator, and Instinct GPU. Nvidia's data center segment is a $3.83 billion/quarter moat. AMD's data center segment delivered an FQ3 2022 revenue of $1.609 billion, notably higher than FQ3 2022's $1.108 billion. Nvidia needs to package an Intel Xeon processor to keep its data center GPUs more attractive against AMD's bundle.
The Xeon brand is why Intel touts an 82.5% market share in x86 processors. Nvidia owns 86% market share in discrete GPUs. The giants are teaming up.
Downside Risks
Intel's stock is still perceived under the dark cloud of declining PC sales. The recent dips of INTC could be attributed to the significant 28.5% year-over-year decline in PC shipments for FQ4 2022. Gartner estimates that for the full year of 2022, PC shipments declined to 286.197 million units. This is -16.2% lower than 2021's shipments.
INTC's stock price could dip some more because IDC estimates that this year's global PC shipments could drop to 281 million units. This expected decline in PC shipments hurts the topline of INTC this year. The PC-centric CCG segment is still the greatest revenue generator of Intel, at $8.1 billion/quarter. The only ray of light that could happen is for more government organizations and private companies to spend more on buying new Windows 11 computers.
The other downside would be for this newfound collaboration between Nvidia and Intel to fizzle out too soon. I opine it would be prudent for Intel not to aggressively pirate the H100 GPU customers of Nvidia. The GPU Max series should be marketed to small companies that cannot afford the $36k price tag of an Nvidia H100 GPU.
Intel and AMD previously partnered up on laptop Radeon GPUs in 2017. The alliance did not last long after Intel hired Koduri to build its line of discrete GPU products. Intel now sells its Intel Arc 370M entry discrete-level GPU that has better benchmark scores than AMD's Radeon Vega Pro 16 desktop-grade discrete GPU.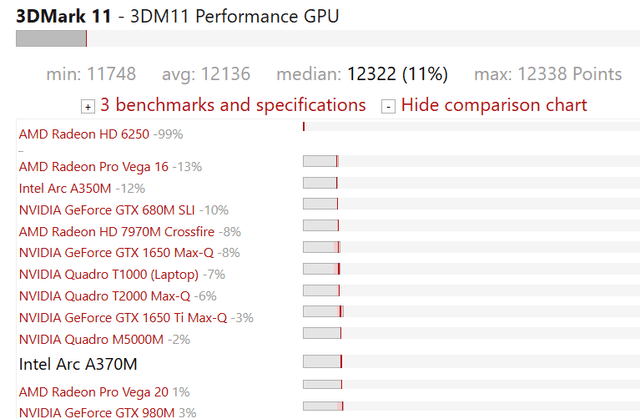 Final Words
The excellent AI benchmark scores of the Sapphire Rapids Xeon processors made INTC a buy. The data center AI hardware partnership with Nvidia is very beneficial for Intel. I hope investors will rally for INTC after the January 26 ER. Seeing my price target of $31.2 realized before this month confirms my assumption that Seeking Alpha is still the best platform where I should share my investing ideas.
On the other hand, another report of a 0% operating margin on DCAI plus a big dip in Q4 CCG revenue could devastate INTC. It could dip below $25 again after Q4 ER. Should this happen, the bull case for INTC is even stronger when it trades below $25.
It will take some time before Intel can achieve the AI-first perception that most investors have for Nvidia. I repeat, the 8.93x TTM GAAP P/E makes INTC a cheap investment on the 26.96% CAGR of the AI hardware business. I estimated that this niche market could be worth $16.8 billion this year.
AI workloads are not the only tailwinds for Intel. The 4th-gen Sapphire Rapids Xeon products will also still benefit from the 5.2% expected growth in global server shipments this year. I opine the partnership with Nvidia is not going to stop Intel from marketing its Max Series of GPUs. My takeaway is that Intel data center-grade GPUs are best bundled with its latest Xeon processors, Altera FPGAs, and Movidius VPUs, and Habana Gaudi 2 AI processors.
---
Disclosure: I/we have no stock, option or similar derivative position in any of the companies mentioned, and no plans to initiate any such positions within the next 72 hours. I wrote this article myself, and it expresses my own opinions. I am not receiving compensation for it (other than from Seeking Alpha). I have no business relationship with any company whose stock is mentioned in this article.
---