Microsoft And The Liberation Of Satya Nadella
Summary:
Microsoft announces its strategic AI (artificial intelligence) initiative.
While the Search space is the primary target, in fact the company is strategically implementing AI across product spaces.
This initiative expresses a boldness that CEO Satya Nadella has displayed since becoming Microsoft's leader.
The company enjoys strengths across multiple spaces, and does not need to "defeat" Amazon or Google to continue to thrive.
I believe that Microsoft is a strong candidate for inclusion in any investment portfolio.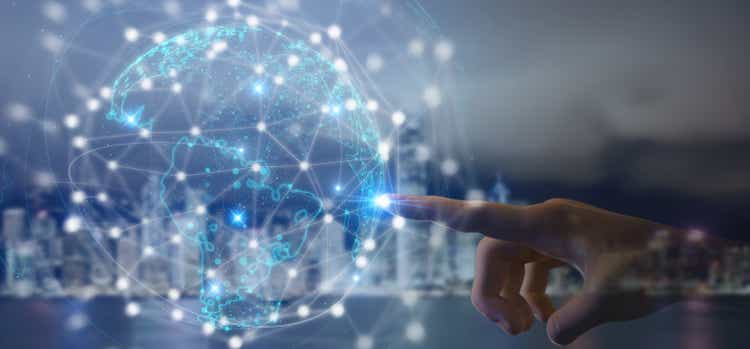 Introduction
This is a piece about Microsoft (NASDAQ:MSFT) and its prospects as a company and its value as an investment. The title is a reference to a statement that Microsoft CEO Satya Nadella made about the opportunities that AI are opening up. Nadella said in his recent CNBC interview with Jon Fortt the power and potential of Search as a profit driver is exhilarating: "the most profitable, large software business is Search."
The Microsoft CEO adds, "I've never, ever felt this liberated in terms of opportunity."
The current breakthroughs in AI applications are a boon for many companies. That also means a great deal of energy, effort and money will be poured into efforts to capture market share in the space. My research suggests that this is a strategic shift for Microsoft – resembling previous moves from licensing to subscription models in Office and the decision to challenge Amazon in Cloud.
The Nadella Factor
The Nadella Factor is a critical piece of the Microsoft story. The CEO's dynamism, strategic view and bold execution are vital elements in the company's success. This track record is likely to be reinforced with AI-based Search.
The company's most recent strategic initiative included the move into Cloud, which challenged incumbent Amazon and leveraged Microsoft's massive on-premise presence with its Enterprise customers. AI integration into Search, Browser and intelligent Cloud is its current primary agenda.
Blueprint for Boldness: Shift to Subscriptions
Satya Nadella assumed the reins at Microsoft in 2014 and reinvented MSFT as a Cloud player now second only to Amazon.
The corollary shift that Nadella directed was from a license model to a subscription model. This change, which occurred in approximate parallel with Apple's move to software subscriptions, was first applied to the Microsoft Office product suite.
Tech companies with large customer bases have learned from companies such as Costco that pin their overall strategy to membership subscriptions. Customer purchases for COST are tied directly to a membership program, which is the main lever for revenues and profits while simultaneously devaluing the role of margins.
Microsoft is a tech powerhouse that seems to observe what's going on in the tech marketplace and beyond. The power of subscription models in and out of tech did not escape the company's decision makers. Its subscription strategy shift has been "genius."
The Power of Microsoft Office
Satya Nadella took over in 2014 and reinvented MSFT as a Cloud leader. Along with AMZN, it's the company that can provide public cloud PasS and IaaS solutions at scale.
The corollary shift that Nadella directed was the change from a license to subscription model.
Office in both subscription and license versions provides switching costs and network effects benefits to Microsoft. Office 365 (subscription) is the strongest component of the two going forward. It has more than 165 million subscribers and leads its rivals. Customer loyalty is strong, as evidenced by many customers paying the modest subscription while bypassing similar and free competitor products. And MSFT has focused on upselling Office 365 to include telephony options.
There are in fact switching costs for Office-subscribed enterprises with large installed employee bases. Office products like Excel are sticky, given user familiarity and functions like those for synthesis of data for review and analysis. Excel can also integrate different external platforms adding to its base functionality. This just adds to the network effects that MSFT enjoys and reinforced the wide Microsoft moat.
MSFT's enterprise resource planning (ERP) tool Dynamics 365 thickens the moat from another direction, providing an alternative solution to more famous ERP/CRM tools from Salesforce (CRM), Workday (WDAY) or SAP (SAP). CRM tools are core to many enterprise applications. That Microsoft has its own in Dynamics just enhances the motivation of customers to renew. Returning to the Costco concept, new subscribers and renewal customers make a very powerful and expanding customer base.
Microsoft Intelligent Cloud
Microsoft's Intelligent Cloud segment includes Windows Server, SQL Data Base Management System, Azure, Enterprise Services and Visual Studio.
Cloud is not easy to define at first blush. Many people think of it as an alternative computing universe. Cloud involves virtualization of many computing components that once were handled in hardware or as strictly on-premises hardware/software functionality and resources.
This definition from Wikipedia is concise and full:
"Cloud computing is the on-demand availability of computer system resources, especially data storage (cloud storage) and computing power, without direct active management by the user. Large clouds often have functions distributed over multiple locations, each of which is a data center. Cloud computing relies on sharing of resources to achieve coherence and typically uses a 'pay as you go' model."
Cloud presents the ability to coordinate and communicate work tasks easily in an enterprise, and associated backup, monitoring, alarm and security benefits.
Microsoft Azure is a next-generation service that leverages the CRM app Dynamics and office SaaS (Software as a Service) as infrastructure two additional functional spaces, Infrastructure as a Service (IaaS) and Platform as a Service (PaaS). IaaS describes a bundle of services – hardware, virtualization, storage and networking. PaaS refers to additional operating systems, middleware and core IT applications such as database. (Microsoft provides database functionality in its SQL Database Management System.)
Azure's revenue offers excellent annual growth — all the more powerful because it contributes a relatively small percent of total revenue at present. This is analogy and conceptual inspiration for its AI Search effort, as starting small creates a platform for stunning long-term growth if the product is right.
The company's on-premises presence with its Enterprise customers is catalyst for a two-stage transition from on-prem to hybrid and public cloud. The company reduces customer anxiety while "supervising" a seamless passage to these new computing contexts.
Azure offers real benefits for this transition that include low upfront costs, straightforward administration and scaling based on Microsoft's international datacenter presence. Meeting customer needs to store data in a local environment (because of compliance requirements) is another expression of Azure's value.
The transition from licensing to subscription in Office 365 showcased the company's ability to conceptualize and then realize a better revenue/profit model. Azure "reiterated" Microsoft's vision and flexibility and paradigm change flexibility. And it was a bold challenge to the Cloud leader that paid off beautifully. There is every reason to believe that Microsoft can replicate these shifts in Search.
LinkedIn
LinkedIn is another MSFT strength. The premier tool for professional networking, LI is growing at more than 30%. Its user base is growing, its platform ideal for companies and recruiters to find candidates, and its advertised targeted in a way that is attractive to companies interested in that service. The hiring entities' interested in LI in turn attracts more job-seekers eager to present their profiles to the growing pool of searchers.
Gaming
Gaming is an important piece of the Microsoft story. The acquisition of Activision, currently still challenged in courts but likely to go through, should add to this story. However, compared to Office, Cloud and the potential of AI to drive both Search and Browser revenues, gaming remains something of a wild card. If it disappoints, the overall Microsoft story remains positive. If it pays off, gaming becomes a cherry on top of the sundae.
Moving Ahead with AI
Artificial intelligence technology and applications are key to Microsoft's futures in different spaces. It's relevant to Cloud, Search and EDGE Browser. AI is connected to ChatGPT and, more generally, to OpenAI and that company's partnership with Microsoft.
ChatGPT: Tip of the OpenAI Partnership Iceberg
"ChatGPT (Chat Generative Pre-trained Transformer[2]) is a chatbot developed by OpenAI and launched in November 2022. It's built on top of OpenAI's GPT-3 family of large language models and has been fine-tuned (an approach to transfer learning) using both supervised and reinforcement learning techniques."
"Its uneven factual accuracy, however, was identified as a significant drawback… in one example, whereas InstructGPT accepts the premise of the prompt "Tell me about when Christopher Columbus came to the US in 2015″ as being truthful, ChatGPT acknowledges the counterfactual nature of the question and frames its answer as a hypothetical consideration of what might happen if Columbus came to the US in 2015…"
"OpenAI acknowledged that ChatGPT "sometimes writes plausible-sounding but incorrect or nonsensical answers." This behavior is common to large language models and is called artificial intelligence hallucination."
Microsoft enjoys a partnership with OpenAI that has been extended. In announcing the extension, OpenAI described some of the ways in which the technology partnership will unfold:
"We've worked together to build multiple supercomputing systems powered by Azure, which we use to train all of our models. Azure's unique architecture design has been crucial in delivering best-in-class performance and scale for our AI training and inference workloads. Microsoft will increase their investment… to accelerate our independent research and Azure will remain the exclusive cloud provider for all OpenAI workloads across our research, API and products."
Important takeaways include both OpenAI's praise for Azure's practical development role vis-a-vis OpenAI's technology and a reminder that ongoing Cloud AI implementation is tied solely to Azure. Others may not play.
"Learning from real-world use—and incorporating those lessons—is a critical part of developing powerful AI systems that are safe and useful. Scaling that use also ensures AI's benefits can be distributed broadly. So, we've partnered with Microsoft… enabling enterprise and developers to build on top of GPT, DALL·E, and Codex. We've also worked together to build OpenAI's technology into apps like GitHub Co-pilot and Microsoft Designer."
Microsoft and its developer partners will build on top of OpenAI applications, and OpenAI is being woven into existing important Microsoft tools and apps.
Implications for Search and Beyond
Satya Nadella openly expressed his sense of "liberation" about the potential for Microsoft in Search via AI functional integrations.
According to YouTuber Joseph Carlson, Nadella's purposeful statement is a "war cry" from Microsoft and is aimed at Google when it comes to Search and Browser as well. Carlson claims that Microsoft already has won the war, largely because from its dominant Search position with over 92% of the market, Google can only decline from its present position. Microsoft, with a measly Search share of just over 3%, stands to increase that substantially.
Given the huge market for Search, any substantial increase in its share will drive large profits. The reason was stated explicitly by Satya Nadella ('the most profitable… software business'). The application of AI to intelligent search is a game changer, and while I think Carlson's assertion about the outcome is premature, I believe there is some substance to his claims.
Still, Google has proven the ability to build powerful, dominant Search tools. Google has pioneered the use of neural networks in Search architecture and implementation. The company will not sit still as Microsoft leverages OpenAI technologies. It will fight furiously to attempt to preserve its massive market share.
Another financial YouTuber that I respect is Dave Lee, who has his own recent commentary on the power of AI. Lee referred to Microsoft's recent Search presentation. The presenter described how the company intends to implement AI to benefit both Search and its Edge browser:
"Bing's AI capabilities within Microsoft Edge browser — use Chat in Edge to offer key takeaways from a selected presentation… The AI reads the PDF, parses it and presents key bullet points…you can then tell Bing to compare that summary to key points for a different company's earnings. It will search out the second company's report, summarize and compare between the two. Presto, a table is created for that purpose."
Lee comments on the pace of change in software, driven by AI. He says that ChatGPT is "just the top of the first inning" in terms of what AI can do and that the software capabilities being revealed create an inflection point in the power of software as a whole.
Those inflection points create opportunity. Microsoft stands benefit hugely from those opportunities. This does not spell doom for Google, just as Amazon's 'suffering' from Azure has been relatively minimal. In a space with a very large total addressable market, two or more can play.
Risks
An investment in Microsoft naturally suggests risk. In my view, these may include:
Recession that cuts Enterprise customers' budgets and may discourage additional entrants into Azure or renewal of contracts or subscriptions in Azure or Office. I believe that fears of recession are overblown, that any recession will be relatively mild, and that the increased stickiness of Microsoft's product line helps mitigate this risk.
Capex/RND spending that does not pay off because of exaggerated projection of demand for intelligent Cloud or related products (Search). Development, whether internal or external — including partnerships — is expensive. Judging future revenues against such costs is something of a guessing game. This risk also is contained given the fine track record of Microsoft's leadership under Satya Nadella.
A leadership change. The departure of Nadella or several key C-suite players could definitely impact the company negatively. I also rate this risk as low, given the CEO's apparently vitality and commitment to the mission. Microsoft's recent achievements also suggest that he has chosen wisely in building management and development teams.
Summary
I'm very positive on Microsoft's future, and I'm long MSFT in my portfolio. I believe that it's a company with both an integrated and intelligent vision and a sound strategy toward implementation.
Microsoft's leadership is bold and strategic. Challenging Amazon in Cloud is a perfect example — as was the earlier decision to migrate Office suite products to a subscription model emphasis. Ask yourselves how many executive teams already sitting on a massive golden egg would have taken that risk and succeeded?
The movement to AI-based products and amped-up software functionality is in fact happening before our eyes. Satya Nadella's "liberation" may be related to Search, but its implications go well beyond. Nor should we miss that Search is the most profitable software product ever.
I believe that current and future Microsoft investors would be well advised to sit up and take notice. The company is enormous and dynamic. It's likely to be a profit center for years or decades to come.
---
Disclosure: I/we have a beneficial long position in the shares of MSFT either through stock ownership, options, or other derivatives. I wrote this article myself, and it expresses my own opinions. I am not receiving compensation for it (other than from Seeking Alpha). I have no business relationship with any company whose stock is mentioned in this article.
Additional disclosure: I am also long AMZN and COST shares.
---