Tesla: Automaker Or Tech Company? My Take And My Investing Choice
Summary:
The big dilemma about Tesla, Inc. lies in the answer to a question: is Tesla an automaker or a tech company?
In this article, I would like to share how I have come to find the answer.
I will share my investing choice, talking about Tesla's current valuation and potential investing alternatives.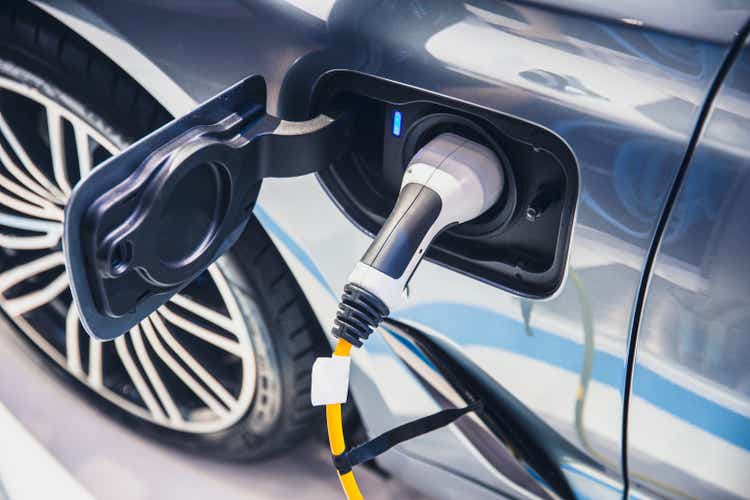 Introduction
Tesla, Inc. (NASDAQ:TSLA) is one of those stocks – and companies – very difficult to write about without being caught in the fight between fans and haters. This is why, though quite interested in the automotive industry, I have been hesitant to write about it. In truth, there has been a lot of buzz about electric vehicles ("EVs"), and I think it hard to deny Tesla was a stock that experienced a lot of hype, leading to extreme valuations. This has made me cautious about it, as I know buzz and hype can be exciting but can lead to rash investing decisions.
To be clear from the beginning of this article, I am no Tesla detractor. However, I am no Tesla investor, either. I do think Tesla is a great company, whose future is probably going to be quite bright. On the other hand, there are a few things about the stock that rule it out of my portfolio where I actually own three other automakers.
In this article, I will share for the first time my view on Tesla, hoping to present my thesis as objectively as possible. At the same time, I would like to show why I am currently building up a position in what seems to me an underestimated competitor of Tesla.
The big question about Tesla
The first question I had to find an answer to assess Tesla was the following: what kind of company do I think Tesla is?
We generally find two answers that revolve around these two concepts:
Tesla is a tech company
Tesla is an automaker.
I know things can be more complex, but as far as my research goes I really think this is the crossroad where two different investing views and strategies diverge.
I find myself agreeing with the second answer: Tesla is an automaker. This is somewhat supported by what the company states in its 10-k.
We design, develop, manufacture, sell and lease high-performance fully electric vehicles and energy generation and storage systems, and offer services related to our products. We generally sell our products directly to customers, and continue to grow our customer-facing infrastructure through a global network of vehicle service centers, Mobile Service, body shops, Supercharger stations and Destination Chargers to accelerate the widespread adoption of our products. We emphasize performance, attractive styling and the safety of our users and workforce in the design and manufacture of our products and are continuing to develop full self-driving technology for improved safety. We also strive to lower the cost of ownership for our customers through continuous efforts to reduce manufacturing costs and by offering financial and other services tailored to our products.
To be fair, these words are not only about electric vehicles manufacturing, as Tesla also claims to be focusing on energy generation and storage systems as well as on developing full self-driving technology ("FSD"). However, I see these other activities as necessarily linked to the manufacturing one. Tesla is indeed disruptive, and it has been a true pioneer, but I see it as the one company that redesigns what all other automakers will need to become to survive and thrive.
Why do I think it important to answer this question? Simply put, it tells us what industry we think Tesla is a part of. This is quite important when we do a valuation of Tesla, as we need to look at the multiples of the industry.
Tesla's financials support this view, too. In fact, if we look at the income statement streams chart, we clearly see how auto sales have the lion's share of total revenues, with $67.2 billion out of the total $81.5 billion (82.5%). If we consider the auto segment as a whole, including leasing and regulatory credits, Tesla earns 87.7% of its total revenues through activities linked to electric vehicles.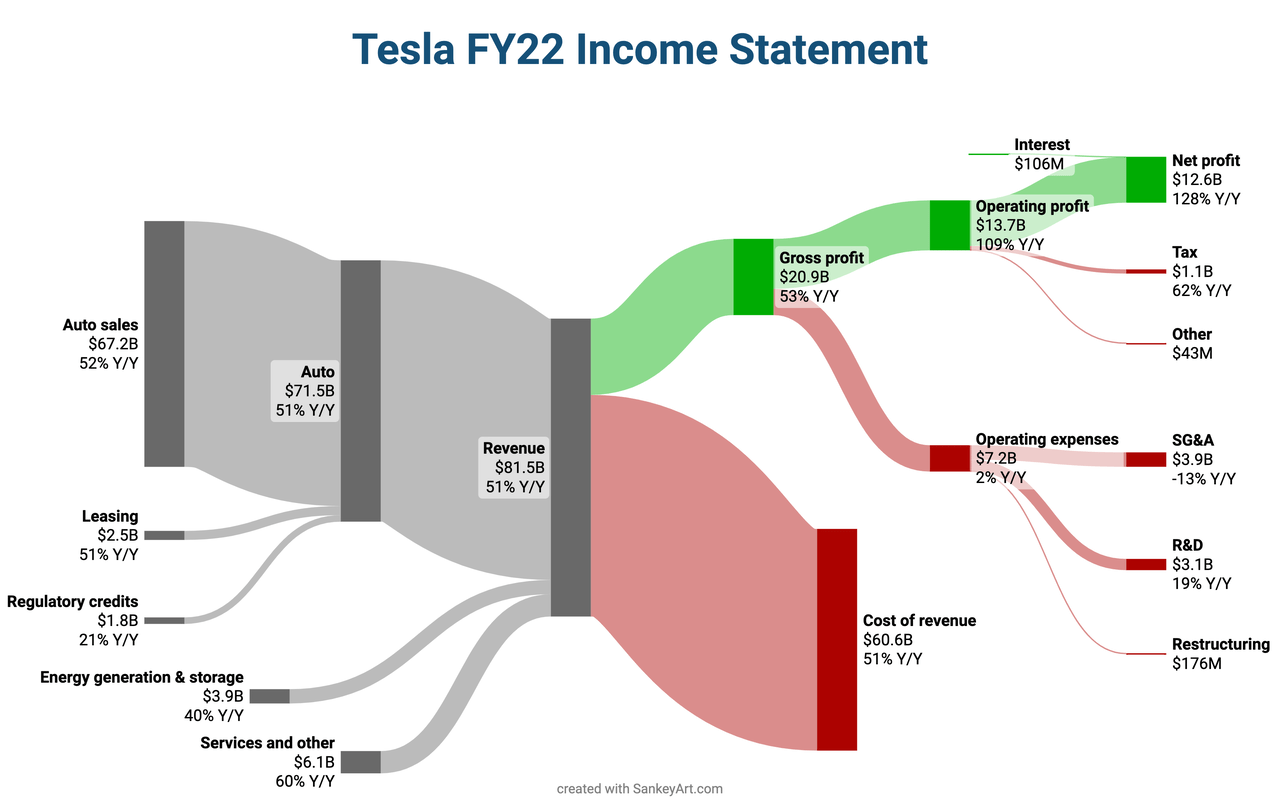 In addition, it seems like Elon Musk himself thinks about Tesla as a "volume carmaker" in the "automotive market," words he used during the last earnings call.
Tesla's financials
It is hard not to like Tesla's financials, especially if we look at their unfolding through the past decade. We have a CAGR revenue growth of almost 45%, while gross profit grew at a CAGR of 46.5% and EBITDA saw a stunning 81.6% CAGR from 2013 to the end of 2022.
In recent years, the company has turned profitable, and since 2020 its net income has moved up from $721 million to $12.56 billion, which is a CAGR of 317.31%. This is what happens when a company finally reaches scale.
Its balance sheet is strong, with just $1 billion of long-term debt and more than $22 billion in cash and short-term investments.
Free cash flow ("FCF") is also strong, with $4.2 billion generated at the end of 2022 vs. the -$32.5 million reported at the end of 2013. The only flaw is that Tesla paid $1.56 billion in stock-based compensation ("SBC"), which actually makes the real free cash flow available to investors just $1 billion. In fact, as of now SBC is added to net income to calculate the final FCF, but, in reality, it is an expense that should be moved down to financing activities and be accounted for as an expense. Therefore, we have to subtract the amount spent on SBC twice to offset the current accounting rule that sees it as an addition, and then to subtract the real expense from the previous amount.
However, on a positive note, Tesla seems to be reducing its SBC, since in 2021 it paid over $2.1 billion for this. But, still, the dilutive effect is sensible.
In terms of profitability, the company is best in class. Here I would like to show one of my favorite graphs Tesla shares with investors. We see that, while the average selling price (ASP) moves down and then stabilizes around $55,000, the operating margin goes steadily up, coming in at 17%.
This is another way to prove how it was vital for Tesla to reach scale, as it has done in recent years. Now, every dollar of additional revenue is more valuable because of increasingly good operating efficiency.
Tesla reported 1.31 million cars sold in 2022 and expects to sell 1.8 million vehicles by the end of this fiscal year. Its plan was bold, targeting a 50% CAGR from 2020 to 2023. It is rather easy to think Tesla seems able to reach this goal.
So, if everything is so bright, why am I not investing in Tesla?
Why I am not a Tesla shareholder
I have some perplexities about Tesla's expectations for the future, which inevitably impact my view of its valuation.
Before we move on, let me state once again that I am no Tesla bear, nor do I think the stock should be shorted, even though it may have indeed reached a recent peak. However, this is not my investing style, since I look for companies to hold for a decade or two.
Let me share what I am thinking about Tesla's upcoming years.
The first thing I wonder about is linked to what automotive segment the company wants to address. We saw how Mr. Musk considers Tesla a volume carmaker. But we don't know exactly what kind of volume carmaker Tesla wants to be. Does it aim at being an 8 million one, like Volkswagen (OTCPK:VWAGY), General Motors (GM) or Toyota (TM)? Does it aim at selling between 2 and 3 million vehicles per year, like Mercedes (OTCPK:MBGAF) or BMW (OTCPK:BMWYY) do? The answer to this question is quite important for a forecast.
Currently, Tesla manufactures four vehicles: the Model 3, Y, S and X. While Model 3 and Model Y have a base price for mass-market appeal, the other two don't. Still, both Model 3 and Model Y have a starting selling price between $40,000 and $60,000, which is not exactly the price range to address all consumers. The other two models have a starting selling price around $100,000.
Tesla has written more than once that it is committed to making its manufacturing process more efficient to bring down the average selling price. However, there are other automakers that are able to sell electric vehicles at more affordable prices. Tesla may start manufacturing subcompact vehicles, but this would benefit mostly volumes over margins, as that segment is highly competitive and many automakers are already or will soon be producing electric cars for this market.
The other option is that Tesla turns into a premium volume automaker. This will make it compete with brands such as Mercedes, BMW, Audi, Lexus and others. While this is a higher margin segment, volumes are a bit lower, with Mercedes and BMW selling about 2 million vehicles per year. Tesla may do a bit more, but I don't see it grabbing away from brands with such a strength all their market share.
In fact, Mercedes' electric car portfolio seems to be already richer than Tesla's.
In other words, I have a hard time thinking Tesla will be able to grow significantly among premium brands without finding hard competition with well-established and highly-appreciated brands.
On the other hand, Tesla has the advantage in that it doesn't have to cannibalize its old models, while all other OEMs do. However, while we are seeing the same thing happening with Netflix (NFLX) and its other streaming competitors, where the latter have to cannibalize their profitable cable business to build up their own streaming platform, in the case of automakers, the shift toward EVs is actually generating higher profitability.
My take: The issue with Tesla's valuation and what already I own instead of it
It may not sound that original saying that what keeps me from investing in Tesla is its sky-high valuation. But let's recall that oftentimes the easiest and most renowned investing principles are forgotten when buzz and hype take place. For sure, Tesla is exciting and this is why we should double down and caution.
On my side, I don't immediately run away from a stock because I see a high P/E or a high P/FCF multiple. For example, staying within the automotive industry, I own Ferrari (RACE). I would never compare Ferrari to Tesla. They are too different. But it is just an example to show how I am willing to pay a higher price when I think it is worth it.
However, the big difference I see between Ferrari and Tesla is that Ferrari's future results are much more predictable than Tesla's. Still, a jewel like Ferrari trades a lower multiples compared to Tesla: Ferrari trades at a 39 fwd P/E vs. Tesla's 58, its fwd EV/EBITDA is 21.4 vs. Tesla's 31, its P/FCF is 37.3 vs. Tesla's 44.8. And this happens while Ferrari's profitability metrics are better than Tesla's: 24% EBIT margin vs. 16.8%; net income margin at 18.4% for Ferrari while for Tesla it is at 15.4%, return on equity of 40.6% for Ferrari and at 32.5% for Tesla.
Coming down to a more realistic comparison, so that we don't risk to mix apples with oranges, let's look at Mercedes and compare it to Tesla (in bold is the better result between the two):
| | | |
| --- | --- | --- |
| | Tesla | Mercedes |
| gross profit margin | 25.6% | 22.5% |
| EBIT margin | 16.8% | 12.2% |
| Net income margin | 15.4% | 16.1% |
| Return on Equity | 32.5% | 16.8% |
Tesla is the winner, but Mercedes is not very far behind, especially as we move down the income statement. Now, let's see how the market prices Tesla's leading position compared to Mercedes:
| | | |
| --- | --- | --- |
| | Tesla | Mercedes |
| fwd PE | 58.1 | 5.3 |
| fwd EV/EBITDA | 31 | 6.8 |
| P/FCF | 44 | 5 |
To me, the difference is too wide, especially if we consider Mercedes' high-quality strategy that is effectively managing to increase the company's profitability.
This is why I actually own Mercedes as my favorite pick among premium luxury automakers.
My third pick – even though, as I have tried to explain, I think we are once again at risk of comparing chalk and cheese – is Stellantis N.V. (STLA). If we look at automakers that produce affordable vehicles truly addressed to customers without deep pockets, then I think the Stellantis bull case almost speaks for itself as soon as we look at its financials and at its multiples. We are talking about a double-digit margin automaker, with incredibly skilled management, lots of tailwinds going for it (i.e., synergies), low geopolitical risk, etc. trading at unreasonable multiples of a 3 fwd P/E, a 1.2 fwd (EV/EBITDA) and a 2.3 P/FCF. I am not kidding. The company trades as if it were to go bankrupt tomorrow, while it is swimming in cash.
Let me share my discounted cash flow ("DCF") model on Tesla, just to check if my thesis may be supported by future cash flow. Even projecting a 5 year free cash flow ("FCF") growth rate of 45% and then assuming a 9% perpetual growth rate (very generous assumptions), I still find TSLA stock should not trade over $150.
As I said, it is not my investing style to short a stock or make short-term trades. I am in for the long term. But I think Tesla, Inc.'s stock got a bit ahead of itself, especially given the fact that it has reached such volumes that will make it harder for the company to keep on growing at the fast pace investors are expecting. Many investors have for sure gained a lot of money with Tesla stock, while many other have lost a ton of it. As for me, I keep on studying Tesla, Inc. as an investor interested in the industry, but I don't see TSLA stock as appealing as other opportunities. This is why I rate Tesla, Inc. as a hold.
Editor's Note: This article discusses one or more securities that do not trade on a major U.S. exchange. Please be aware of the risks associated with these stocks.
---
Disclosure: I/we have a beneficial long position in the shares of MBGAF, STLA, RACE either through stock ownership, options, or other derivatives. I wrote this article myself, and it expresses my own opinions. I am not receiving compensation for it (other than from Seeking Alpha). I have no business relationship with any company whose stock is mentioned in this article.
---