Tesla: Growing Full Self-Driving Liability Could Be Massive
Summary:
EV maker Tesla, Inc. recently issued a recall on its full self-driving software package.
Tesla's hardware version 4 is expected to be unveiled shortly.
Robo-taxi liability potential seems to be growing by the day.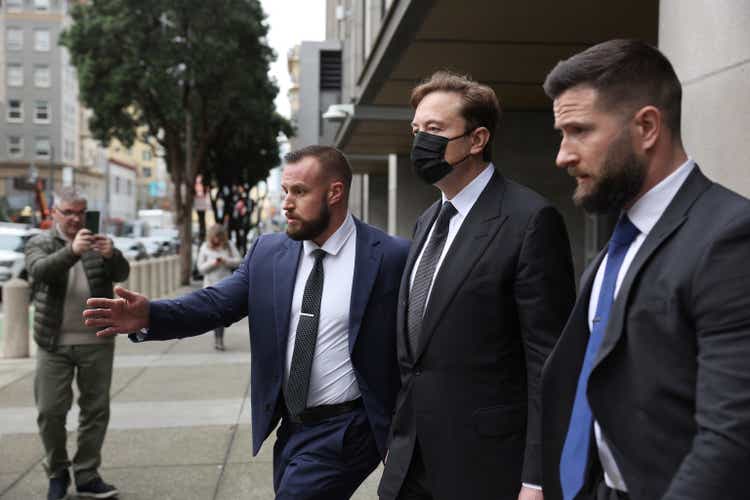 Last week, shares of Tesla, Inc. (NASDAQ:TSLA) came under some pressure after it was announced that there would be a recall of the company's full self-driving ("FSD") software. This likely will just result in an over the air update to satisfy regulators regarding what's wrong with the software package. The electric vehicle ("EV") maker is also nearing another major milestone with FSD, as it looks to solve autonomy and hit one of the biggest bullish catalysts that many investors have currently. While much of last week's news coverage focused squarely on what could eventually be just a minor item, FSD itself could be a massive liability for Tesla that seems to be growing even larger.
For those that have followed the Tesla story, you know that CEO Elon Musk has basically talked about full self-driving for almost a decade now. The company still has not shown off the U.S. coast-to-coast autonomous drive that it said would come by the end of 2017, for instance. As a reminder, Tesla started building vehicles with full self-driving hardware back in October 2016. As a point of reference, the chart below shows Tesla's cumulative production since the start of 2017, excluding maybe 15,000 vehicles or so produced in Q4 2016, that would have had FSD hardware equipped.
Over the years, there have been multiple updates to the full self-driving hardware. Each time, there have been questions over whether or not customers would be able to upgrade their hardware. If so, would those who paid for the FSD software get the new hardware for free? I bring this up because there are those who believe Tesla will not be able to get to true full self-driving (or possible robo-taxis) with some of the earlier versions of this hardware.
The next version of FSD hardware is 4, which could go into vehicles any day now. Perhaps Tesla will unveil it at the upcoming March 1st investor day. Elon Musk said that a retrofit for current vehicles is highly unlikely for those who have hardware version 3, yet he still believes version 3 will still be good enough to be safer than the average human. For those wondering about a potential retrofit, this Twitter thread shows pictures of these two hardware versions. It seems quite obvious that you won't be able to swap one for the other, and it was pointed out in the thread that the new hardware will probably use even more cameras in its setup.
The potential liability question comes into play here if you think Tesla won't be able to truly solve FSD with the current hardware. One might think that a potential lawsuit would just want to refund the FSD price, and those arguing here might cite the recall number of vehicles to get a total liability. At an average cost of $10,000 for FSD, that gets you to around $4 billion when you consider how many customers have reportedly paid for the package so far.
However, like almost everything else in this world, things here probably aren't that simple. A customer could suggest that they bought their Tesla because of FSD's potential, but are waiting to buy the FSD package until it's completely ready for prime time. By the end of Q1, there could be close to 4 million vehicles that have hardware version 3 or earlier. A lawsuit looking for Tesla to repay the consumer for the entire vehicle's cost based on not delivering FSD, using an average sales price of $60,000, would result in a liability of $240 billion dollars! That number is about 11 times the cash Tesla has on hand currently, and it represents about 3/8 of the company's market cap.
Unfortunately, we're only starting to scratch the surface of how bad things could be if we look at a truly worst-case scenario. That's because back in early 2019, Tesla held an Autonomy Day, which is where Elon Musk famously talked about having a million robo-taxis on the road by the end of 2020. We are more than two years past the end of that calendar year, and there still is not a single Tesla robo-taxi on the road currently (ride-sharing operators using Tesla FSD Beta do not count). That gets us to one of the slides Tesla management showed at that presentation, seen below.
Tesla ended up raising more than $10 billion in capital, some may say to avoid bankruptcy, between that presentation and the end of 2020. There could be a bit of a liability, and potentially even criminal charges against management there, if one is claiming securities fraud. However, that's a debate for another day. What I'm focusing on here is what consumers would be arguing, based on the premise that their Tesla with full self-driving could become a robo-taxi.
The above slide suggests that a Tesla robo-taxi would generate $330,000 in gross profits over the lifetime of the vehicle. For this argument, let's assume that vehicles with hardware version 3 or earlier cannot get to a point where they are robo-taxis. I say this because one Twitter user, who has been a major supporter of Tesla and Elon Musk over the years, stated in a tweet that this version will never be able to drive around without human input. This particular Twitter user is one of the most prominent FSD Beta testers out there. He's not alone, however, as highly followed Twitter user Troy Teslike apparently agrees with this sentiment that driverless FSD hardware 3 looks unlikely, with Tesla likely to try to get there with version 4 for the foreseeable future.
If you had a class action suit covering those roughly 4 million vehicles, and they were all arguing they lost out on, say, $260,000 in robo-taxi profits (the $330,000 minus an average $60,000 vehicle cost and the average $10,000 FSD cost), we'd be talking about a little over $1 trillion. There has been at least one lawsuit so far regarding Autopilot and FSD, although it is very early on in the legal process at this point.
I'm sure skeptics will ask about leased vehicles and those that may have been totaled since. Well, vehicle leasing has only accounted for a mid-single digit percentage of Tesla's deliveries over time. Some of those vehicles could be bought at the end of the lease, or turned over to a second consumer, which could provide a second layer of liability in some cases. Also, for my assumptions today, I'm basically saying that vehicles with hardware 3 are no longer produced after Q1. If that's not the case, the number could continue to rise, offsetting some of these variables. Still, even if you want to take, say, 5% off my worst-case scenario, you're still talking about nearly a trillion dollars.
On the competitive side, there has been some interesting news in the autonomous driving space recently. A few weeks ago, Mercedes-Benz Group AG (OTCPK:MBGAF) got its Drive Pilot system to be the first Level 3 system to be certified for US roads. There are 5 levels of autonomous driving, and Tesla's FSD is currently pegged at Level 2. Around the same time, Consumer Reports came out with its industry rankings for various driving assistance packages, and Tesla's FSD ended up in the middle of the pack.
With a market cap of around $625 billion at Monday's close, Tesla obviously could not pay that much in damages today, and thus bankruptcy could be a possibility. Of course, there'd be plenty of appeals if a trial were even successful, and defendants would try to walk down the damages per vehicle quite significantly. I should also point out that Whole Mars Catalog, the Twitter user above talking about hardware version 3, liked a separate tweet quoting his original tweet, that suggested Tesla should be on the hook for billions of dollars in liabilities regarding FSD. I am not a lawyer, but that liking of the quoted tweet doesn't look good when coming from such a major Tesla supporter and FSD Beta user.
Tesla stock closed Monday over $197, down more than 5% on the day as the overall market was hit hard. Interestingly enough, that price is only about 25 cents away from the average price target on the Street. At the moment, I wouldn't be rushing to buy TSLA shares until we get a clearer picture of how near-term demand is faring, especially after all of the major vehicle price cuts we saw earlier in the quarter. I will be looking for that update at next week's Investor Day on March 1, after which I can provide more of a clear recommendation on the stock. I also would not be shorting TSLA stock ahead of next week's event, either, as perhaps some major new product and service announcements could get investors energized a bit.
Last week, it seemed like everyone focused on the recall regarding full self-driving for Tesla. However, the bigger issue here may be the company's inability to get its vehicles to be fully autonomous by now, especially given all of Elon Musk's previous statements. With hardware version 4 potentially about to be launched, there could be a lot of potential liability here if Tesla, Inc. cannot deliver what it seemingly promised customers, especially if you think about the monetary possibility of robo-taxis. While the thought of potential liabilities isn't likely to have any meaningful impact on the stock today, this item is one potential major risk that Tesla, Inc. investors should consider for the long term.
Editor's Note: This article discusses one or more securities that do not trade on a major U.S. exchange. Please be aware of the risks associated with these stocks.
---
Disclosure: I/we have no stock, option or similar derivative position in any of the companies mentioned, and no plans to initiate any such positions within the next 72 hours. I wrote this article myself, and it expresses my own opinions. I am not receiving compensation for it (other than from Seeking Alpha). I have no business relationship with any company whose stock is mentioned in this article.
Additional disclosure: Investors are always reminded that before making any investment, you should do your own proper due diligence on any name directly or indirectly mentioned in this article. Investors should also consider seeking advice from a broker or financial adviser before making any investment decisions. Any material in this article should be considered general information, and not relied on as a formal investment recommendation.
---