Tesla: The Noise And The Reality
Summary:
Tesla recalling 362,758 vehicles, or is that just a software upgrade?
Tesla is surrounded by what I call "noise," things that could go wrong but that are not of much significance (other than to shorters).
And then there's reality, which is that Tesla is not just a car company but a major player in the energy and transport revolution.
Even as a car company, it's different as it chooses a small number of products which are profitable and paradigm changing.
The key new developments are the Tesla Semi which shows BEVs will dominate heavy transport, the Cybertruck, which is an evolving enigma, and Full self-driving.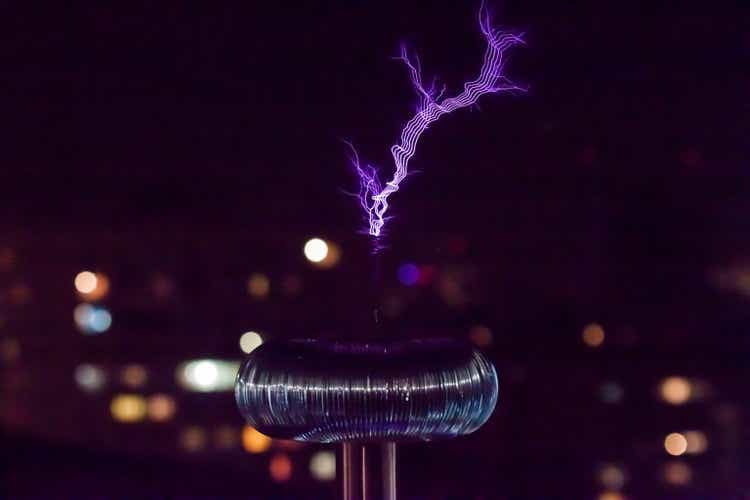 Jack Fitzgerald of Car & Driver had some fun a few days ago with a headline screaming that Tesla (NASDAQ:TSLA) was recalling 362,758 vehicles in the US in relation to full self-driving crash risk. Great headline, but it was a software upgrade to me. No vehicles actually recalled. Tesla will inform drivers affected through notification letters by April, 15, 2023, and provide the upgrade over-the-air. This hardly sounds like a problem of the scale that a physical 362,758 vehicle recall might suggest. This makes a big difference to likely impact on Tesla's US business, minimal as far as I can see. Jack Fitzgerald has form on when screaming recall when what he means is an over-the-air software update, as a second story in Car and Driver on Nov. 9, 2022, wrote about 40,000 Tesla Model S and X recalled when he meant over-the-air software update and recalibration of the electronic power assist steering.
Modern cars are computers and with computers comes software upgrades that require minimal customer involvement. This doesn't mean that the upgrades are inconsequential. My favorite story about Tesla software upgrades concerns releases in late 2020 that provided increased range most probably through powertrain and heat pump control software.
The above misleading claims about a recall are what I call "noise" in relation to Tesla. A physical recall of more than 360,000 Tesla vehicles in the US would be a big deal. Reality is different. There's a lot of "noise" surrounding Tesla, especially when writers get excited about Elon Musk's antics concerning Twitter. Here I look at real things that are happening at Tesla that makes clear that it's not normal car company, nor is it just a car company. The goings on at Tesla reinforce my decision to invest recently when the stock neared $100. Today it looks like I made the right decision.
Tesla is more than a car company
Tesla first got my attention in the battery space when it produced a big battery (at Hornsdale, owned by Neoen (OTC:NOSPF)) to solve a 2017 crisis in the power system in South Australia, partly in response to a challenge from Aussie billionaire Mike Cannon Brookes. The battery was delivered in record time and had a 100 MW/129 MWh capacity. The Hornsdale battery was soon upgraded (150MW/194MWh) and has continued to provide world firsts such as 3GWsec inertia service on an established grid in 2022. This was approved by the Australian Energy Market Operator.
A Google search for big batteries reveals huge projects just about anywhere around the world. To give a sense of the scale of the opportunity for big batteries, a recent report on the Australian grid and plans for meeting 1.5C temperature targets indicates Australia will need 70GW of big batteries by 2050. The emerging reality of the above is seen by examples of projects under consideration in Australia now.
Tesla's big batteries have a significant position in Australia and it isn't just about the battery technology but also about managing the big batteries.
While Australia has been a good market for Tesla's big battery business development, similar projects have been won by Tesla all over. A recent example is Canada's biggest battery (250MW/1GWh) being built in Southwestern Ontario, it's using Tesla's Megapacks.
Tesla needs a lot of batteries, not only for the above projects, but also for its scale up of vehicle manufacture (see below). There has been a lot of noise about how we shall run out of lithium, but experienced miner Twiggy Forrest (Fortescue Metals Group (OTCQX:FSUGY)) is pretty clear that there isn't a shortage of lithium. There may however be a shortage of accessible lithium for companies in a hurry (like Tesla) that have a big demand for batteries. So I'm not surprised that Tesla might be looking to shore up its lithium supply through potential acquisition of Sigma Lithium (SGML) which has potentially the largest hard-rock lithium resource in the Americas.
The wheeled transport side of Tesla is no "normal" car company
Tesla is the biggest BEV manufacturer in the world currently, although it will probably lose that mantle to BYD (OTCPK:BYDDF) soon. The differentiation by Tesla is that it produces only a small number of different vehicles. The company chooses models that have good prospects for success because the niche they fill is interesting and the company makes sure it captures the upside that it has planned.
The four personal transport vehicles have just one more in the wings (the luxury Roadster). A key distinguishing feature of these vehicles is that they're highly profitable as a result of engineering innovation and marketing.
The current focus (beyond expanding production of its core vehicles) is on completion and release of two specific classes of vehicle, the Semi and the Cybertruck. Added to that is a very strong focus on autonomous driving software development.
Big trucks (Semi)
EIA figures indicate that CO2 emissions by diesel vehicles account for 26% of total US transportation sector emissions or ~10% of total US energy-related CO2 emissions. And combustion of diesel fuel leads to a variety of other harmful particulate emissions.
Tesla chose the biggest of trucks to show that heavy transport can be decarbonized with a fully electric vehicle. It took a while, but the Tesla Semi was released to its first customer (PepsiCo) (PEP) in early December 2022 (PepsiCo first ordered 100 Tesla Semis in 2017). Last week CNBC released a video covering the initial positive findings concerning the Semi at PepsiCo. My take is that the Tesla Semi will spell the end of a future for hydrogen-powered heavy trucks. The market for heavy trucks is big, so the Semi is another example of a Tesla wheeled transport product that's pioneering a large empty niche for zero emissions heavy vehicles.
Upcoming Cybertruck
Just as the Semi has taken time to get to market, the Cybertruck is another vehicle that will fill a niche, but the exact nature of the vehicle is still not fully resolved, although the plan is for release in 2023. Some might call the hype around the Cybertruck "noise" but there's reality to this project and more than 1.5 million orders! Musk gets ahead of himself, but Tesla has a strong track record of successful innovation, no doubt partly due to making sure they get it "right." I confess to be unclear exactly how this is going to go and it will be interesting to see how the Cybertruck goes in competition with the highly successful Ford F-150 Lightning BEV. I'm guessing that this vehicle might take the market that was opened up by Toyota with the LandCruiser, although its deliberately "out there" styling will no doubt lead to a somewhat different following.
Full Self-Driving Software
Another area where there has been a lot of criticism of Musk is his enthusiasm for self-driving software. It hasn't happened yet, and it has taken time, but the whole industry is following the evolutionary path to self-driving. Anyone who has looked at the statistics will be aware that humans are unreliable behind the wheel and self-driving is going to massively reduce road fatalities. I've had personal experience of rounding a corner to see, approaching on my side of the road, a car passing a semi-trailer. Fortunately there was room for me to get out of the way. So I'm a big fan of FSD Software. If it takes time that's OK with me because this is a hard nut to crack. Bill Maurer has explored the full catastrophe of problems for Tesla if the upcoming upgrade of FSD (version 4) doesn't do the job and vast numbers of Tesla owners sue. I'm patient to see what version 4 looks like and then get a sense of what that means for the company. At the moment hand ringing about legal liability is a return to where I began this article… noise. Reality is that Tesla has a massive amount of data collected from its vehicles out there in the real world. This is a huge advantage.
I finally bought Tesla at $113
Given the above and notwithstanding Musk's antics re Twitter, I finally took the plunge early in January to purchase Tesla at $113. So far this is going well. I hear the shouts to sell now, but I'm a long-term investor and I see more runway for Tesla even in the short to medium term.
Seeking Alpha authors are significantly in "buy" territory (4 strong buy, 15 buy), but with 14 hold and 6 sell out of 39 authors in the last 30 days. Wall Street is even more positive, with 16 strong buy, 7 buy and just 9 hold, 3 sell and 1 strong sell out of 36 Analysts over the past 90 days. Seeking Alpha's Quant rating is hold, and it's significantly weighed down by an F rating for Valuation.
Conclusion
Tesla is not normal stock and all kinds of noise surround consideration of an investment in the stock. As I indicate in this article, I try to get the noise into perspective and think about investment based on qualitative issues that might impact the stock positively. As I've discussed, I think that Tesla has a lot more going for it than just considering it to be a car company, even if it's a remarkable car company. Its current car business involves the sale of Models S, 3, X and Y and it's likely to produce ~1.8 million vehicles profitably this year, with sales of the Tesla Semi just starting. New automotive products are the Cybertruck and FSD (version 4). I have barely covered the Tesla energy storage business other than that it's a huge player in a rapidly-emerging energy storage market both in the home as well as at grid scale. It's helping to enable renewable energy to rapidly outcompete fossil fuels in a new grid configuration that involves managing intermittency rather than being solely focused on base-load power.
As a final point, while I don't do financials (others do that), I do note that Seeking Alpha figures show that Tesla has a total debt of $5.75 billion. For comparison Ford (F) has total debt of $140 billion, while Toyota has a total debt position of $217 billion.
I'm not a financial advisor but I follow closely the massive changes happening as transport gets electrified. Of course Tesla is a major player in this space. I hope that my comments concerning Tesla help provide perspective as you and your financial advisor think about investment in the electrification of transport and maybe Tesla.
Editor's Note: This article discusses one or more securities that do not trade on a major U.S. exchange. Please be aware of the risks associated with these stocks.
---
Disclosure: I/we have a beneficial long position in the shares of BYDDF TSLA either through stock ownership, options, or other derivatives. I wrote this article myself, and it expresses my own opinions. I am not receiving compensation for it (other than from Seeking Alpha). I have no business relationship with any company whose stock is mentioned in this article.
---