Acadia Pharmaceuticals: Breaking Down FY22 Earnings And Trofinetide Approval Shot
Summary:
I was bullish on Acadia back in November and its share price has climbed >30% since then.
Revenues from Nuplazid – its only commercial drug indicated for Parkinson's Disease Psychosis – were >$500m, but the company remains a heavy loss-maker.
On March 13, the company will learn if the FDA has approved its drug candidate Trofinetide in Rett Syndrome.
Management seems confident in Trofinetide based on positive Phase 3 study results showing statistically significant improvement on caregiver and physician assessment scales.
The improvements seem somewhat marginal and an open label extension trial resulted in 46% patient discontinuation. I'm not sure that supports a Buy recommendation any longer.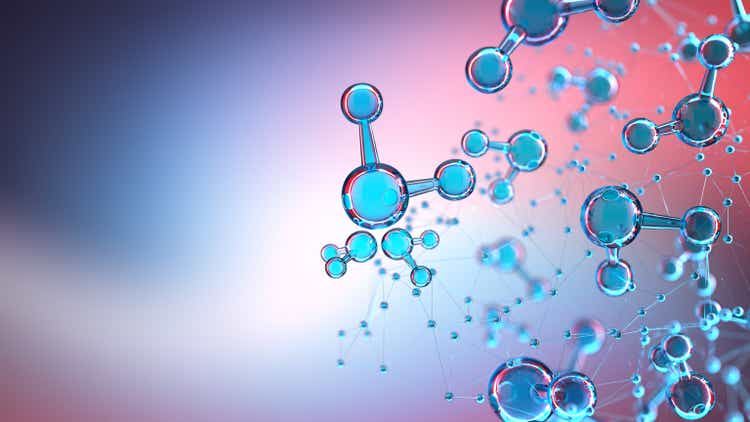 Investment Thesis
The last time I covered Acadia Pharmaceuticals (NASDAQ:ACAD) for Seeking Alpha was back in November last year after the company had released its Q322 earnings, guiding for FY22 revenues of $510 – $520m from its only commercialized drug NUPLAZID (pimavanserin) – a selective serotonin inverse agonist/antagonist, preferentially targeting 5-HT2A receptors, that is the sole approved drug to treat Parkinson's Disease Psychosis ("PDP").
Although I noted that Acadia was a heavily loss making company, I was bullish on its share price, based on the company's opportunities to secure 2 new approvals – for pimavanserin in Negative Symptoms of Schizophrenia, and for a second candidate, Trofinetide in Rett Syndrome – both had delivered some encouraging results in late stage clinical studies.
Fast forward three and half months and Acadia's share price trades at $19.4 at the time of writing – up >30% since my last note. The company released its Q422 and FY22 earnings yesterday, and held a conference call with analysts and released a detailed earnings presentation.
A good time, then, to complete a health check on Acadia and speculate about what 2023 holds for the company, based on upcoming catalysts, earnings potential, and profitability. Let's begin by taking a detailed look at Acadia's earnings and guidance for 2023, before moving on to discuss the March 12 PDUFA date for Rett Syndrome Trofinetide – arguably the most important data of 2023 for Acadia.
FY22 Earnings In Review
In the final quarter of 2022 Nuplazid earned revenues of $136.5m, meaning FY22 revenues came in at $517.2m – at the higher end of guidance. Year-on-year revenue growth in Q422 was +4%, and across FY22 it was +7%.
As I have mentioned before however Acadia is a historically loss-making company and 2022 was no different. Although net loss in Q422 narrowed slightly year-on-year, to $(41.7m) from $(43.1m), across 2022 as a whole, GAAP net loss widened, from $(168m) in 2021, to $(216m) last year. GAAP EPS was $(1.34), compared to $(1.05) in 2021.
Shareholders expecting 2023 to be a first profitable year for Acadia may be slightly more encouraged by the look of Acadia's guidance for 2023, however.
As we can see above, Nuplazid sales in PDP are forecast to grow by ~3.5% at the midpoint of 2023 guidance for $520 – $550m of revenues, but with R&D expenses expected to be $245m at the midpoint of guidance, and SG&A expenses $370m, Acadia looks set to make an ~$80m loss. It should be noted however that the above guidance does not include any revenue contribution from Trofinetide.
Trofinetide's PDUFA Date Arrives In March – What To Expect
Management submitted its New Drug Application ("NDA") for Trofinetide last year, and the Prescription Drug User Fee Act ("PDUFA") date – when the FDA communicates if it has decided to approve the drug for commercial sale or not – arrives in less than a fortnight, on March 12.
Rett Syndrome is described as follows in Acadia's 2022 10K submission:
a debilitating neurological disorder that occurs predominantly in females following apparently normal development for the first six months of life. Typically, between six to eighteen months of age, patients experience a period of rapid decline with loss of purposeful hand use and spoken communication and inability to independently conduct activities of daily living. Symptoms also include seizures, disorganized breathing patterns, scoliosis and sleep disturbances.
There are no approved therapies to treat Rett Syndrome presently. Acadia describes Trofinetide's mechanism of action ("MoA") as follows:
Trofinetide is a novel synthetic analog of the amino‐terminal tripeptide of insulin-like growth factor 1 (IGF-1) designed to treat the core symptoms of Rett syndrome by reducing neuroinflammation and supporting synaptic function.
Acadia announced results from its Phase 3 study of Trofinetide in Rett Syndrome in December 2021. In the 187 patient LAVENDER study (females aged 5-20 years) in which half of the patients received Trofinetide and half placebo, Acadia reported a statistically significant improvement over placebo for both endpoints – the caregiver assessment Rett Syndrome Behavior Questionnaire ("RSBQ"), and the clinician assessment Clinical Global Impression Scale-Improvement ("CGI-I") – as follows:
On the RSBQ, change from baseline to week 12 was -5.1 vs. -1.7 (p=0.0175; effect size=0.37). The CGI-I score at week 12 was 3.5 vs. 3.8 (p=0.0030; effect size=0.47).

Additionally, trofinetide demonstrated a statistically significant separation over placebo on the key secondary endpoint, the Communication and Symbolic Behavior Scales Developmental Profile Infant-Toddler Checklist–Social composite score ("CSBS-DP-IT–Social") change from baseline to week 12 was -0.1 vs. -1.1 (p=0.0064; effect size=0.43).
From a safety perspective, study treatment discontinuation rates related to treatment emergent adverse events ("TEAEs") were 17.2% in the trofinetide group vs. 2.1% in the placebo group, with diarrhea and vomiting being the most common complaints, although these were overwhelmingly "mild to moderate" in nature, Acadia says.
Serious Adverse Events ("SAEs") occurred in 3.2% of patients in both the placebo and Trofinetide arms of the study. More than 95% of LAVENDER patients elected to "roll over" into an open label extension study, Acadia says.
Trofinetide has been granted Fast Track Status and Orphan Drug Designation by the FDA, as well as a Rare Pediatric Disease ("RPD") designation, which means that if it is approved, Acadia will receive a 'Priority Review Voucher," which it can use to accelerate an approval decision for another drug product, or trade to another company, the market value being (I estimate based on other sales) ~$70 – $100m. Trofinetide's patent protection is expected to last until 2036.
With no Advisory Committee convened by the FDA to vote on approval, it's not clear what the FDA may think about Acadia's study results and the efficacy and safety profile of Trofinetide, although Acadia appears to harbour few doubts the drug will be approved. If that proves to be the case, Acadia's share price will likely enjoy a spike in value – although I'm not sure an approval will lead to sustained share price growth.
Open Label Trofinetide Data
On the earnings call with analysts Acadia's Chief Scientific Officer and Head of Rare Disease Kathie Bishop discussed results from the open label extension study – named LILAC – of 154 patients who "rolled over" from LAVENDER.
As we can see above, patients RSBQ scores continued to improve post LAVENDER, both for patients already treated with the drug, and those who switched over from placebo. Additionally, patients CGI-I scores trended downward, indicating an improvement in conditions.
Kathie Bishop told analysts that once again, diarrhea and vomiting – plus COVID 19 – were the most common adverse events, and were "almost all mild or moderate in nature." More worryingly, perhaps, Bishop told analysts that:
Discontinuation in the study related to an adverse event of diarrhea were 21% over the 40 weeks. The overall discontinuation rate was approximately 46%. There was no single reason contributing to the additional discontinuations and this rate is not uncommon when compared to other long-term open-label studies.
Perhaps more than any other type of disease the risk / reward profile of Central Nervous System ("CNS") therapies is hard to judge, but a 46% discontinuation rate does seem high, and if the most common adverse events are diarrhea and vomiting, these are unpleasant side effects for any patient or caregiver to have to experience and deal with on a regular basis.
Apparently, patients with Rett Syndrome typically have severe constipation and often take laxatives so sudden cases of diarrhea seem likely to exacerbate problems associated with caring for patients, although Acadia believes the cases of diarrhea could represent a positive "trade-off." I don't personally find that argument especially convincing.
Acadia CEO Steve Davis told analysts that the adverse events may be more pronounced in the early months of treatment, and ease over time, although this is not necessarily proven.
Without a detailed and intimate knowledge of Rett patients and the significance of a 7-point improvement in RSBQ scores or a ~0.5 improvement in CGI-I scores, as mentioned above, it's hard to judge whether the benefits of Trofinetide outweigh the negative side-effects.
Market Opportunity
We could speculate that the FDA will agree to approve Trofinetide given the lack of other treatment options – according to Acadia, these are comprised of:
off-label usage of branded and generic prescription medications targeted at individual symptoms of Rett syndrome, including antiepileptics, antipsychotics, antidepressants and benzodiazepines.
With that said, even if the drug is approved, it's not necessarily guaranteed to be a commercial success. Acadia says it has identified a population of ~4,500 diagnosed patients in the US who are cared for at "Centers of Excellence," non-COE academic institutions and other neurology practices," although the fact that it has declined to provide any forward sales guidance may be telling.
Acadia also declined to confirm what price it may charge for Trofinetide, although the company has formerly mentioned a peak sales opportunity of ~$500m, so based on the midpoint of a total patient population that the company estimates to be 6k – 9k patients, we can speculate a course of treatment may cost ~$70k per annum.
It should also be noted that Acadia licenses Trofinetide from ASX-listed Neuren Pharmaceuticals, and by the term of the agreement Neuren is:
eligible to receive milestone payments of up to $455.0 million, based on the achievement of certain development and annual net sales milestones, including a $40.0 million payment upon the Company's first commercial sale of trofinetide in North America. In addition, Neuren is eligible to receive tiered, escalating, double-digit percentage royalties based on net sales.
Acadia will need to secure reimbursement for commercial Trofinetide, and at this stage it's hard to know if commercial payors / health insurers will want to provide that reimbursement. It may depend on how hard physicians are pushing for the drug to be made available for patients. Again, much depends on the trade-off between the negative side effects and the benefits.
Researching online, I found some discussion of a 2019 study supported by Neuren and Rettsyndrome.org that suggests patients showed improvements, although it seems patients responded in different ways to the therapy and there wasn't much consistency around which symptoms improved.
To summarize all of the above, although Acadia is bullish on the prospects for approval of Trofinetide on March 12, I find both the study data and commercial opportunity questionable in some respects.
Will the healthcare industry respond positively and pay potentially >$50k for a drug that has some troubling side effects, that may not necessarily make noticeable improvements to patient's conditions, and had a nearly 50% discontinuation rate in an open label study?
Ultimately, I would still, on balance, just about expect the FDA to approve the drug, but I'd be doubtful if this is a $500m revenue opportunity for Acadia, or perhaps not even a triple-digit-million revenue opportunity. It may be significant that Acadia plans to reduce its SG&A spend in 2023 – possible an odd decision given it may be about to launch a second product?
Don't Discount Pimavanserin in NSS, Or The Early Stage Pipeline
With its PDUFA action date just a few days away, it isn't surprising that most of Acadia's focus is on Trofinetide and the potential commercial opportunity there. Personally, however, I wonder if Pimavanserin in Negative Symptoms of Schizophrenia may be the better opportunity, both in terms of efficacy and market opportunity.
First of all, Acadia believes this is a ~700k patient market, which is an order of magnitude larger than the Rett Syndrome opportunity. Secondly, Pimavanserin / Nuplazid is already approved to treat a CNS condition. Acadia announced results from its Phase 2 Advance study in 2019 as follows:
In November 2019, we announced positive top-line results from the ADVANCE study. In this study, pimavanserin demonstrated a statistically significant improvement on the study's primary endpoint, the change from baseline to week 26 on the Negative Symptom Assessment-16 (NSA-16) total score, compared to placebo (p=0.043).

A greater improvement in the NSA-16 total score compared to placebo was observed in patients who received the highest pimavanserin dose of 34 mg (n=107; unadjusted p=0.0065). Pimavanserin did not separate from placebo on the key secondary endpoint, the Personal and Social Performance (PSP) scale
The study met one of two endpoints, so this is an opportunity that's far from guaranteed to succeed, and it could go the way of the Alzheimer's Disease Psychosis ("ADP") approval shot that Acadia was pursuing for Nuplazid, that was rejected by the FDA last August. A Phase 3 study is ongoing, however, that will read out data in 2024.
Otherwise, Acadia has an earlier stage pipeline that is focused on assets targeting Alzheimer's Disease Psychosis – ADP-204 is in a Phase 1 study that is expected to complete in H123, meaning we may have some data this year – Rett Syndrome, and other neuropsychiatric symptoms, with the latter two opportunities being preclinical.
Conclusion – Doubts Around Trofinetide Mean Stymie Investment Case In My View
I was bullish on Acadia back in November but after a >30% rise in the share price I'd be slightly concerned if that uptrend can continue in the long term.
Assuming a potential Rett Syndrome approval is already partially baked into the share price, the spike on formal approval may not be substantial, and based on my research into Trofinetide at least, approval is not necessarily a formality, adding downside risk to the equation.
The market opportunity for Trofinetide also looks underwhelming based on the small patient population and whether Acadia will be able to charge the fee it has planned – whatever that may be – for a drug that has some troubling side effects and makes an apparently very marginal difference in patients conditions based on the clinical assessment scale.
As such, although I'm not necessarily turning bearish on Acadia, I would not say I'm bullish either. Nuplazid may not be a profitable enough drug to support a >$3.5bn market cap valuation, in my view, and the supporting cast does not like it is going to make a decisive case for a higher valuation.
I may be wrong on Trofinetide and I sincerely hope I am given the nature and severity of the disease. Perhaps it can succeed in a commercial setting, although it doesn't seem completely obvious that this is going to be a better treatment option that what is currently prescribed off-label. On March 13 Acadia will discover at least if it can start marketing its drug in a real world setting.
---
Disclosure: I/we have no stock, option or similar derivative position in any of the companies mentioned, and no plans to initiate any such positions within the next 72 hours. I wrote this article myself, and it expresses my own opinions. I am not receiving compensation for it (other than from Seeking Alpha). I have no business relationship with any company whose stock is mentioned in this article.
---
If you like what you have just read and want to receive at least 4 exclusive stock tips every week focused on Pharma, Biotech and Healthcare, then join me at my marketplace channel, Haggerston BioHealth. Invest alongside the model portfolio or simply access the investment bank-grade financial models and research. I hope to see you there.