American Tower: Time To Be Greedy
Summary:
American Tower benefits from the fact that its infrastructure becomes ever more important.
The valuation has come down a lot and is now at a below-average level.
The yield has risen to a highly attractive level of 2.9%.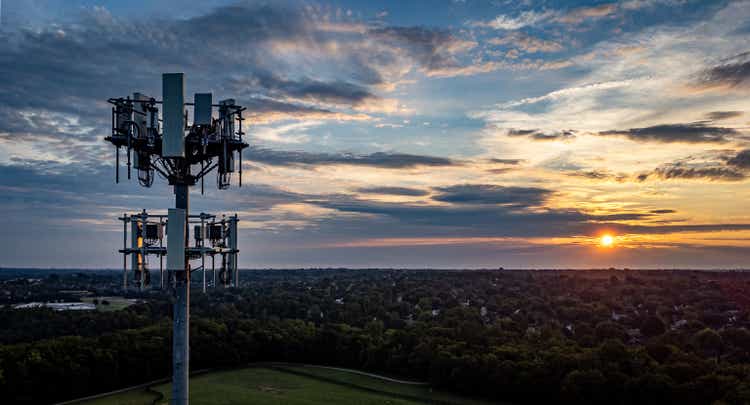 Article Thesis
American Tower Corporation (NYSE:AMT) is a high-quality REIT that has seen its shares pull back over the last year. Over the same time frame, AMT has increased its dividend, which has made the dividend yield jump up to almost 3%. Since American Tower is trading at an inexpensive valuation, shares seem relatively attractive today.
Company Overview And Outlook
American Tower is a real estate investment trust that mostly owns wireless communication towers that are used by tenants to offer wireless services to their customers. While the broad real estate market is not necessarily growing fast, and while some pockets of this industry are actually experiencing declines, such as malls and office buildings, AMT's sector is experiencing solid growth. After all, wireless connectivity becomes ever more important for our daily lives, as more and more devices require connectivity, and since the data usage of mobile devices such as smartphones continues to grow. New, emerging technologies such as autonomously-driving vehicles that communicate with each other also require massive data transfers at a rapid pace which increases the need for new technologies such as 5G further.
Apart from towers, American Tower also owns a growing data center business under the CoreSite brand. Data centers naturally benefit from the same digitalization trends as cell towers, which is why data centers also have an above-average growth outlook relative to the broad real estate investment universe.
This above-average growth potential was visible in American Tower's most recent quarterly results, reported in late October. During the third quarter, the company grew its revenue by 9% year over year, which is pretty strong growth for an income investment in general, and for a REIT in particular. Revenue growth can be generated in different ways. First, American Tower can build or acquire new towers and data centers, of course. Since the company does not pay out all of its profits via dividends, it can retain some cash flow that can be used for such growth investments, either organically (by building new sites) or inorganically, by acquiring assets or entire companies. When American Tower pursues such investments, it finances a portion of the deal value with debt, which means that American Tower is able to invest more than $1 per Dollar that it retains.
The more attractive growth option for American Tower is same-property growth, however. American Tower can grow the revenue it generates per data center or tower by either adding new customers to existing infrastructure, or by increasing lease rates for customers over time. Adding new tenants to existing towers is relatively easy, as these towers can handle more than one tenant's equipment. Since the towers have been constructed anyways, adding an additional tenant does not generate large additional costs for American Tower, but doubles the revenue, all else equal. Since the equipment itself is paid for by the tenant, adding additional tenants to existing infrastructure is thus a highly attractive way for American Tower to grow its business over time, as the low proportional costs of adding additional revenue this way means that this is highly accretive for the company. In past presentations, American Tower has stated that the initial return on investment when building out a new tower and adding one tenant is in the mid-single digits, which isn't overly attractive. By adding a second and third tenant to the same tower, American Tower can increase the ROI to the low-teens range or the low-20s range, respectively, which is quite attractive. By adding additional tenants to its vast existing infrastructure network over time, American Tower can thus grow very profitably: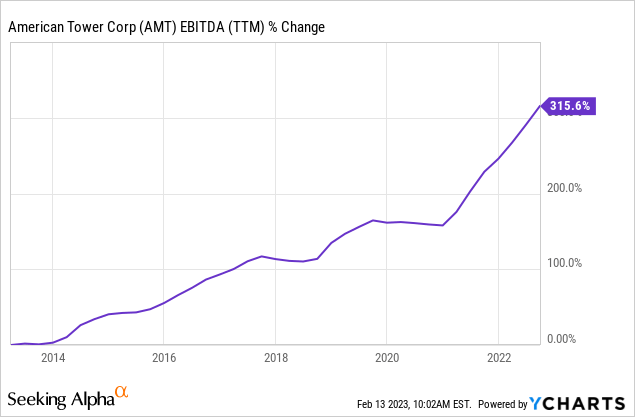 Over the last decade, American Tower grew its EBITDA by close to 320%, which is great. The share count has risen over that time frame, which is typical for REITs as they sometimes issue shares to finance growth spending. When this share issuance is done at the right price (when shares are expensive), this can be accretive. Accounting for the 18% share count increase over the last decade, American Tower has grown its EBITDA per share by 253% over the last decade, which pencils out to an annual growth rate of 13%. I think that this is pretty attractive in absolute terms, and especially attractive when we consider the following facts:
– American Tower is an income investment, those oftentimes grow at a lower pace than non-dividend paying stocks, as they do not retain all of their cash flow
– American Tower is a recession-resilient business, as contracts with tenants remain in place even during a recession and as AMT's infrastructure is required in every economic environment
– AMT shares are not volatile. The beta is just 0.54, making American Tower a holding that tends to outperform during a market downturn.
American Tower: Valuation And Dividends
When a company is growing at a compelling pace while also offering these attractive characteristics that make it a defensive income investments, that makes for a highly attractive combination, I believe. Of course, valuations still have to be considered. About one and a half years ago, I wrote an article about American Tower in which I stated that AMT was too expensive at the time, which is why I did not give it a Buy rating despite its attractive characteristics. And as it turns out, that played out well, as AMT did indeed underperform due to its overly high valuation at the time — shares are down by 20% since summer 2021, which is unfortunate for those that chased shares when they were expensive. Today, however, things are different, as American Tower is quite attractively priced right here, I believe.
Based on American Tower's current enterprise value to EBITDA multiple, shares are underpriced today: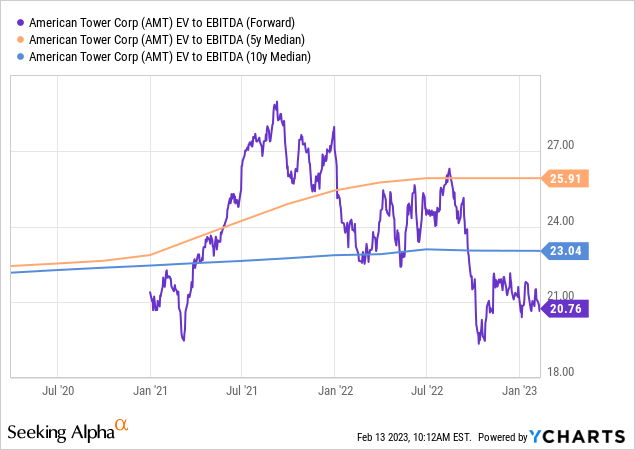 The company is valued at 21x EBITDA, whereas the 5-year and 10-year EBITDA multiples are meaningfully higher, at 23 and 26, respectively. Note that using enterprise value instead of market capitalization seems like a good idea as it accounts for changes in debt usage over time.
While I do not necessarily expect that AMT will trade at 26x EBITDA anytime soon, the current valuation seems significantly more attractive compared to how AMT was valued in the recent past. For a defensive infrastructure business with attractive organic growth opportunities, a 21x EBITDA multiple also does not seem especially high in absolute terms.
Likewise, American Tower looks attractive from a yield perspective: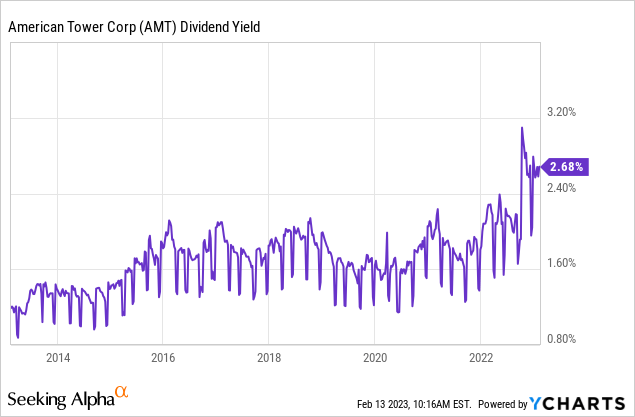 American Tower's dividend yield has risen to the highest level in more than a decade, as the trailing dividend yield is 2.7%. When we look at the most recent dividend of $1.56 per share and annualize that, we get to an even better dividend yield of 2.9%, which is close to twice as high as the broad market's current dividend yield.
Investors have gotten strong dividend growth in the past, showcased by the following chart:

Over the last five years, the per-share dividend has more than doubled from $0.75 per share to $1.56 per share. While I do not believe that future dividend growth will be this pronounced, it seems pretty likely that American Tower will continue to grow its dividend over time, as it has done for the last 10 years in a row.
Even a mid-single digits dividend growth rate of 5% or 6% would make for a compelling total return potential in combination with the dividend yield of almost 3%. At constant valuations, i.e. without any potential tailwinds from multiple expansion, investors could expect total returns in the 8% to 9% range in this scenario, which is far from bad considering AMT is a non-volatile, recession-resilient investment.
Takeaway
American Tower is well-positioned for growth going forward, I believe. Cell towers and data centers will become ever more important as they are the backbone infrastructure of how we communicate, work, and spend a large portion of our free time. Organic growth opportunities such as adding additional tenants to existing towers are attractive, as this generally is highly accretive for AMT.
Following the pullback AMT's shares have experienced, they are now trading at a discount to the historical valuation range. In combination with an attractive 2.9% dividend yield — the highest in a decade — American Tower could thus be well-positioned for delivering compelling total returns going forward.
---
Disclosure: I/we have no stock, option or similar derivative position in any of the companies mentioned, but may initiate a beneficial Long position through a purchase of the stock, or the purchase of call options or similar derivatives in AMT over the next 72 hours. I wrote this article myself, and it expresses my own opinions. I am not receiving compensation for it (other than from Seeking Alpha). I have no business relationship with any company whose stock is mentioned in this article.
---
Is This an Income Stream Which Induces Fear?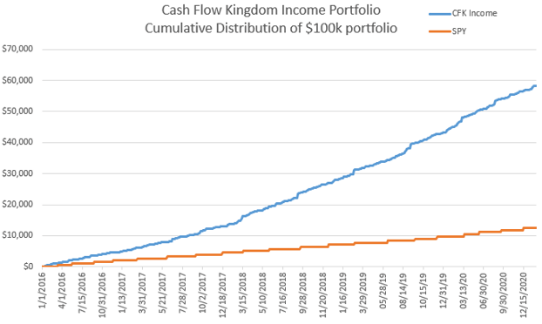 The primary goal of the Cash Flow Kingdom Income Portfolio is to produce an overall yield in the 7% – 10% range. We accomplish this by combining several different income streams to form an attractive, steady portfolio payout. The portfolio's price can fluctuate, but the income stream remains consistent. Start your free two-week trial today!