The True Beneficiary Of ChatGPT Is C3.ai, Not Microsoft
Summary:
The ChatGPT buzz and the billions of dollars Microsoft is investing in OpenAI certainly create opportunities for the software giant.
However, it has to compete with market leader Alphabet implying that the time for Bing's AI chatbots to completely replace Google's search engines is not here yet.
On the other hand, C3.ai, which is already an artificial intelligence pure-play for the enterprise business segment has just unveiled its generative product suite to profit from the buzz.
The recent change in its charging model should also help it to rapidly gain market share, which also explains my bullish position.
However, after such a meteoric rise, do expect a lot of volatility as larger competitors launch similar products.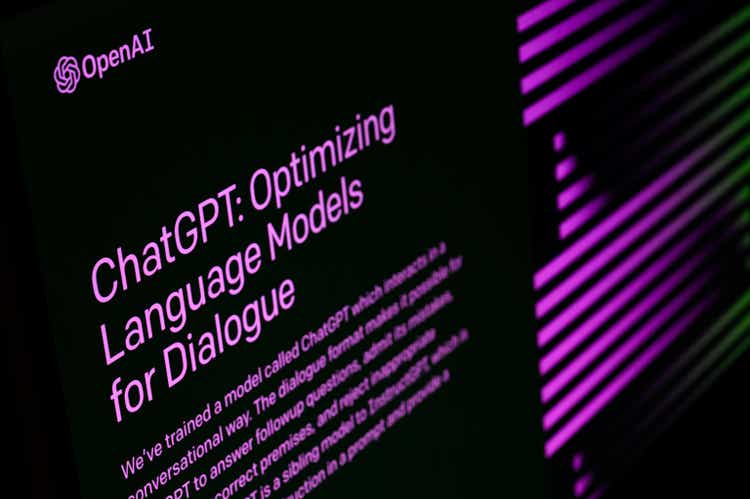 With its investment of $10 billion in OpenAI, Microsoft (NASDAQ:MSFT) seems to be opening pandora's box of possibilities with ChatGPT, which may even benefit its Bing search engine's effort to catch up with Alphabet's (GOOG)(GOOGL) Google.
At the other end of the spectrum and operating more in the shadows is C3.ai (NYSE:AI), whose CEO Thomas Siebel was the transformative mind behind ERP (enterprise resource planning) tools that enable corporations to better manage their material and human resources.
Looking at the price action, since November 30, after ChatGPT was launched, it is C3.ai stock that has surged, by nearly 99% compared to just 1.26% for Microsoft.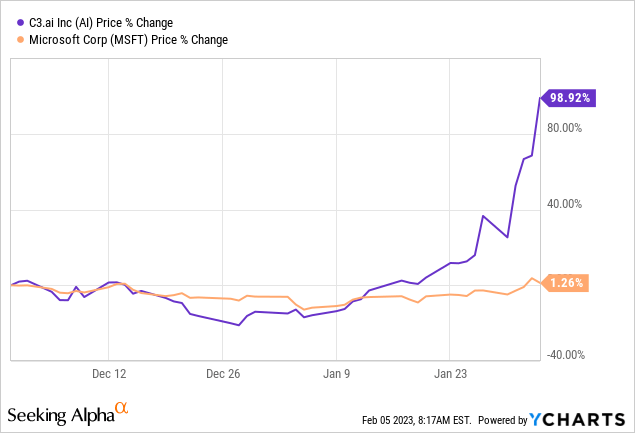 Now, these two companies are partners for C3's AI Platform and Microsoft's Azure cloud, but with the advent of ChatGPT, they could become competitors, and my aim with this thesis is to assess whether investors are right in trusting Siebel's company as the one which, already equipped with a ready-made product is poised to benefit more as the software giant invests billions of dollars in research and battles it out against Alphabet's Bard for chatbot supremacy.
I start with how Microsoft wants to get stronger with ChatGPT.
Microsoft's Approach
Coincidentally, the growing intensity of talks about ChatGPT, which is basically about using chatbot-style interaction instead of a search box, from the start of this month coincided with Microsoft's stock upside and helped to cheer up investors' mood after the company missed top-line estimates for its second quarter 2022 financial results. The revenue deceleration could continue into FY-2023 which ends in June as the company trims off its workforce, but this could change with the use of OpenAI's GPT-3 which translates natural language, or the words you and I communicate with, to computer instructions. Examples include strengthening Microsoft's Office productivity software PowerPoint and Excel and bringing more automation features.
There are more opportunities with Bing, Microsoft's search engine, where ChatGPT could provide more personalized search results based on the conversational approach and better summarize the content of web pages. This improvement in how OpenAI's trained language model can improve Bing comes from chatting with ChatGPT itself as pictured below.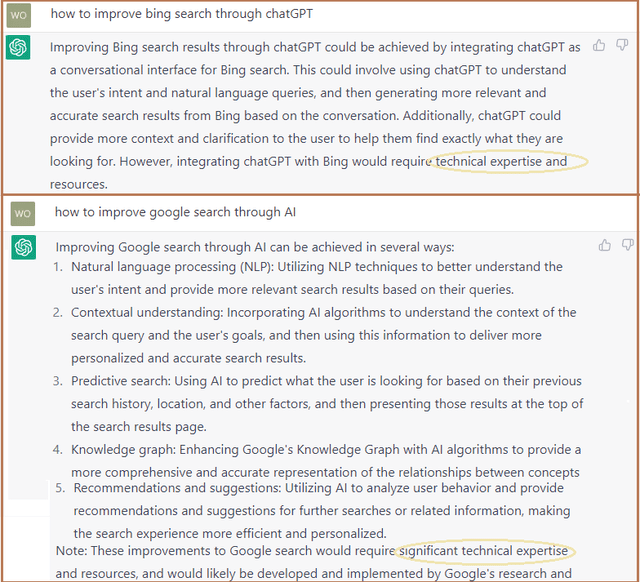 Now, adding more interactive chat features can certainly help Bing improve on its less than 8.7% of the U.S. market share for search engines (2022 figures) compared to the market leader Google which owned 84.7%. However, as encircled above in orange, it will also depend on how Microsoft's engineers are able to integrate ChatGPT with Bing.
Also, as seen above, by the results obtained from ChatGPT as to how to improve Google search through AI, there are lots of ways innovative IT can help. In this respect, behind the simple-looking Google Search box, Alphabet already utilizes analytics including complex algorithms for a variety of purposes like knowing which user profiles are accessing which items.
Therefore, while everyone focuses on the rivalry between two big techs including the billions spent by Microsoft for conversational AI, it is rather C3's organic growth that appears more cash-friendly, especially in an economic environment where monetary policy is tight and likely to remain so for the foreseeable future.
C3's Generative AI Approach
This is a cloud-based enterprise SaaS play with the C3 AI suite that offers its customers the ability to rapidly digitally transform their applications into more intelligent ones. The company earns money primarily through its subscription services and professional fees, but its SG&A costs (which includes marketing expenses) during the last six quarters have equaled its revenues, as it has been spending heavily on growth.

Its main customers are mostly large enterprises like LyondellBasell (LYB), Raytheon (RTX), Shell (SHEL), and the U.S. Air Force just to name a few. Now, with the publicity created around AI with ChatGPT, there is a strong likelihood that smaller enterprises could show interest and approach C3, instead of the company's sales team having to chase them. To lure more customers, the company radically changed its pricing model in December to consumption-based, enabling clients to spend less on Capex.
Furthermore, to cash in on all the buzz around ChatGPT, the company has developed the C3 Generative AI Product Suite for Enterprise Search specifically tailored for those looking for a different user experience by using a natural language or conversational type of interaction, enabling querying across diverse corporate information systems. Interestingly, as pictured below, in addition to OpenAI's ChatGPT, C3's Generative AI integrates some of the capabilities of Google and other training models.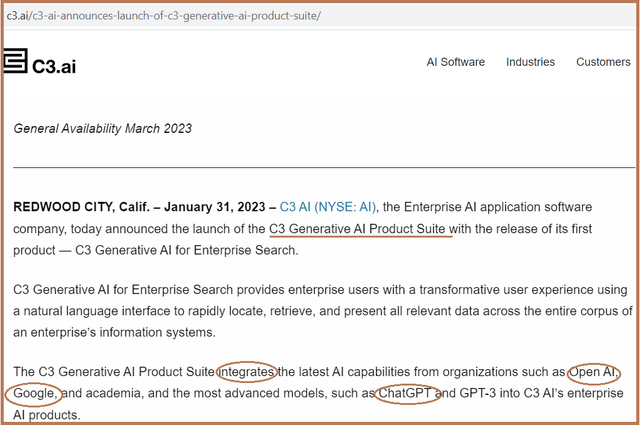 Now, while this appears to be an opportunistic development to profit from the AI buzz, you have to give credit to C3's R&D department for having rapidly come up with a product using natural language. Equally important, instead of claiming any superiority based on its 12 years of experience, the company wants to differentiate itself by proposing features compatible with ChatGPT and Google's analytics.
Looking into marketing, it directly targets corporate users instead of individuals and for this purpose, can rely on a strong track record as a pure-play enterprise AI company that aims to help users navigate through their complex and existing information systems to extract useful data for predictive analytics purposes.
Valuations and Risks
From the financial perspective, equipped with $840.1 million of cash, and spending an average of $40 million per quarter for the last four, C3 has the means to grow organically by diversifying its existing product line, which represents a better option than spending $10 billion like Microsoft in a highly competitive marketplace where Alphabet reigns.
Furthermore, Microsoft through its Azure platform proposes AI services, but these seemed to be designed more for data scientists and developers, whereas C3 proposes solutions directly for enterprises. Thus, it is now uniquely positioned with a compelling generative AI product suite in several industry verticals including ERP, supply chain, demand forecast, etc. in a market expected to grow at 34.6% CAGR from 2022 to 2030. This should now accelerate with ChatGPT, and I have a growth estimate of 50%, which is about 28% more than 21.21% by analysts as shown below. Now, since sales form the denominator of the Price-to-sales ratio, this translates to a forward P/S of 5.46x (316.77/522.68 x 9.01). This means lower valuations based on higher sales for the fiscal year ending in April 2024 and yields a target share price of $40.5 (9.01/5.46 x 24.5).

This is higher than the current share price by 60% which is considerable. Hence, adding in a cautionary note, the stock should be volatile as the company faces competition from the likes of Oracle (ORCL) or SAP SE (SAP), but it must be mentioned that these are more ERP plays diversifying into AI. These are also large companies with millions of dollars of research and marketing resources and other players are likely to emerge and implying downside risks for the stock following product launches by competitors. Another source of volatility is the share price skyrocketing within such a short period as a result of traders also jumping in, together with investors wanting to profit from long-term opportunities in AI.
Thus, depending on how news hit the market, there is likely to be a high degree of volatility.
Conclusion
This thesis has shown that investors who have trusted C3 after the buzz created by ChatGPT are right and that the stock could rise further when its products are launched on March 7 as it already operates in the enterprise business segment, in addition to introducing a more flexible charging model. To support my bullish stance, I have valued the company using sales metrics, but its profitability status should also increase as well.
As for Microsoft, it is hard to understand at this stage how it will compete when the search engine market leader is positioning Bard, its experimental conversational AI service powered by LaMDA, which some of you may remember was in the news in July last year when one of Google's engineers affirmed that the technology had reached the level of human consciousness. Also, Alphabet can rely on profiling data from billions of users using both Chrome on laptops and Android devices.
Therefore, the time for AI chatbots to replace search engines is not yet here, which means that Bing's advertising revenues will not suddenly surge and its year-on-year revenue growth of 10% (table below) will not evolve rapidly. This is the reason I have a hold position for the stock.
On the other hand, C3, which already exhibits better growth metrics, should see an acceleration in sales as I explained earlier. Furthermore, despite its much smaller scale, the AI pureplay has higher gross margins which show that it is managing its platform more efficiently. This platform approach also enables rapid deployment of new software releases without having to recruit an army of engineers.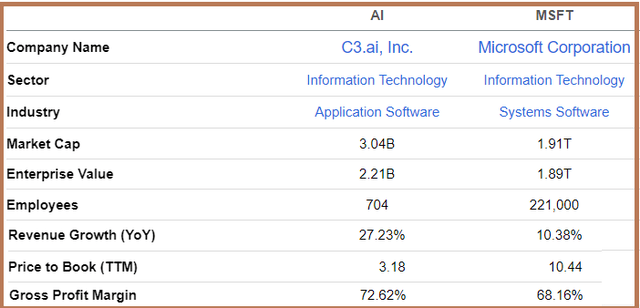 Another reason for being bullish about the AI play is its patents or intellectual property assets, which have become more valuable overnight signifying that its low price-to-book of just 3.2x is on the low side.
Finally, C3's generative AI targeted specifically at enterprise search by using a natural language interface is a better way to invest in AI rather than Microsoft which is spending billions in a highly competitive market. This said, a better option is to wait for performance feedback for Bing with the ChatGPT built-in which has been launched in a limited version.
---
Disclosure: I/we have a beneficial long position in the shares of AI either through stock ownership, options, or other derivatives. I wrote this article myself, and it expresses my own opinions. I am not receiving compensation for it (other than from Seeking Alpha). I have no business relationship with any company whose stock is mentioned in this article.
Additional disclosure: This is an investment thesis and is intended for informational purposes. Investors are kindly requested to do additional research before investing.
---