Disney: Can Activist Shareholders Be Trusted On The Board
Summary:
Activist shareholders are generally not a friend of retail long-term investors.
The Trian proposal appears to be enough an exception.
There is a risk that putting a Trian representative on board allows that person a full term without a potential recall provision.
Bob Chapek as CEO had a lot more challenges because of the covid situation right after he became CEO.
Disney stumbled badly with the CEO succession and therefore needs to prove they can find someone who can continue to run the company well with a successful transition.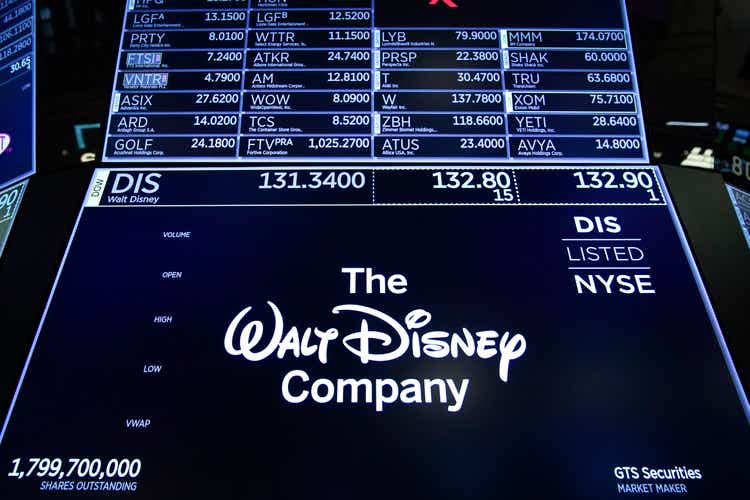 I have long had a distrust of activists because they often leave companies in worst shape then they found them to the disadvantage of long-term shareholders. That distrust heightened when the fight was over due to the restructuring. My reasoning is if you are fighting to improve succession and then leaving because the restructuring is satisfactory, then to me the whole thing was not well thought out. However, the latest Disney (NYSE:DIS) activist proposal has me rethinking that idea (provided of course they stuck with the "message").
I was kind of thinking of the lyrics to a very old song sung (primarily) by Neil Sedaka:
" Are you thinkin', baby, maybe Your needs are the same as mine?"
Sometimes it is amazing how business deals seem to follow social ideas way more closely than I am comfortable. The problem with electing any activist to a board is that often those activists now have free reign until the next election (whenever that is and however that works). I have never been impressed with the results many times.
Trian Proposal
Trian is an activist organization that wanted to get on the Disney board of directors. The main interest appears to be getting fully involved with the CEO succession issue that brought the current CEO back. But a review of the proposal is probably necessary because they backed out for a very different reason. Even though the original idea was sound, the execution once they got on the board is questionable. Therefore, a review is good because in the future what happened may be a decent reference.
Never mind that the previous CEO faced a "hornet's nest" of issues with the covid challenges. It is very possible that the CEO just was not going to survive the whole 2020 situation because it was not humanly possible. That was such a nightmare for established CEO's in many industries let alone a brand new one who succeeded an industry icon.
My personal belief was that the CEO was in an impossible situation because you had people running to the board while not allowing him to be established. When you succeed someone like the current CEO, you need a multi-year plan and a whole lot of support from everywhere. Therefore, the Trian proposal is not farfetched because there was clearly a stumble with Bob Chapek as CEO.
Disney Performance Issues
Intertwined with the CEO discussion has been a discussion about "disappointing" performance. One thing to note is that Disney as a company had to literally shut down due to the covid challenges. Getting key operations running again after something like that takes a special talent. So, making any money in fiscal year 2021 (that ends in October, not December) is probably a minor miracle. Disney made money.
Supposedly, what made the "final straw" for Bob Chapek was the 2022 financial performance. The fourth quarter in particular seemed to disappoint a lot of people. But exactly what would anyone compare the ramp-up too? Probably the only thing that management might have been guilty of was in not changing guidance as the situation changed.
Interestingly, for as much as Bob Chapek was maligned as a leader, he is probably responsible for the first quarter strong results and quite possibly much of what was presented. What many do not appear to accept is that a company like Disney moves very slowly with a lot of future planning. I don't know how many times management of a large company has stated what you are hearing began years ago (like roughly 3 years give or take). Large companies have far more logistical and relational issues than small companies.
This is what appeared to make the activist proposal impractical. Plans were underway for some time. If someone on the board "stirs things up" the likely result is a complete grind to a halt rather than improvement. It usually takes a special person to bring about large-scale directional change in a large company.
The actions of the fight to get on board and then the quick exit from the fight seem to imply a very near-term focus had the activist succeeded. There are times when that is necessary. But the time is rarely available when it comes to large companies.
Parks did reopen and needed to use a lot of cash to get back to normal. Certainly, that was not forecast. Nor was the possibility of one or more parks shutting down as covid refused to fade into the sunset as a major issue. But anyone could state there were major ongoing issues in a situation like that would be an interesting business case study. The fact is there was little to guide any management about a year like fiscal year 2020.
Usually, a situation comes about because there is a failure by the CEO to build consensus and communicate more than normal when a tough situation arises. The way things turned out, it might have been far better for Bob Iger to remain on the job through the covid challenges and then try to navigate a succession to him.
Movie Ramp-Up
One of the things about having an October fiscal year end was that Disney really only released two blockbuster movies that made it into the fiscal year. That should have surprised no one. It takes a fair amount of time to make movies and the covid challenges made making movies a real project beyond the normal challenges. Without blockbusters, Disney's earnings are going to be different than is the case in a normal year when several potential hit movies are released.
Disney is known to be far more consistent in having large movie successes than just about any other studio I follow. So, a Thor movie and a Dr. Strange movie made it into fiscal year 2022. The current fiscal year just barely started and already has Wakanda Forever and an Avatar movie. Therefore, it is already on pace to surpass the previous fiscal year in terms of potential profits.
The fact is that Disney had purchased a major amount of assets from 21st Century Fox and then had no chance to take advantage of the acquisition before the covid challenges began. When something like that happens, investors are lucky that the ramping up results were not much worse.
Clearly this fiscal year signals a major change in that the Avatar movie is part of the extension of that acquisition.
The Future
My suspicion with Disney stock is that the market got tired of waiting for the company to return to normal. There were likely a few stumbles along the way that sometimes happens with new CEO's.
Probably the main issue was that the new CEO at the time, Bob Chapek, did not (or maybe could not) build a consensus for the moves he was making. There is also a darn good chance that the old CEO never "got out of the way".
There is also the issue of a transition period. A large company like Disney probably needs a time where the retiring CEO and the new CEO work together. It most likely should be some years. The proposal from the activist investor appears to be addressing this issue.
The appearance of an activist investor, Nelson Peltz had an interesting proposal. But he really undid any good the proposal might have done by backing out for an entirely different reason. To me, this highlights the risks of an activist investor. They campaign on one issue. But once they get on board, they are completely free to do as they please. In this case the inconsistency of the activist actions points to a lack of a cohesive plan should he have actually successfully gained a board seat (even though I liked the original reason).
What is clear is that Disney stumbled badly when changing CEO's. Most companies do not have the option of bringing back a retired CEO. Disney likely will not have that option at some point in the future. The company was in fact fortunate to string two successive CEO's together who did very well managing the company.
The other issue is that the succession issue is unlikely to run into the rather unique covid challenges that the previous CEO dealt with. So, life for the next CEO is likely to be much simpler. Still Disney needs to prove that it can fine another Michael Eisner or another Bob Iger as well as ensure the guy has a reasonable chance to succeed. Bob Chapek as CEO had a horrible plate of challenges to deal with (before one gets to any mistakes).
The next CEO needs to be supported so that people do not undercut him or her by running to the board. Communication at the upper levels appears to need a lot of work before there is any discussion about another CEO.
---
Disclosure: I/we have a beneficial long position in the shares of DIS either through stock ownership, options, or other derivatives. I wrote this article myself, and it expresses my own opinions. I am not receiving compensation for it (other than from Seeking Alpha). I have no business relationship with any company whose stock is mentioned in this article.
Additional disclosure: Disclaimer: I am not an investment advisor, and this article is not meant to be a recommendation of the purchase or sale of stock. Investors are advised to review all company documents and press releases to see if the company fits their own investment qualifications.
---
I analyze oil and gas companies, related companies and Disney in my service, Oil & Gas Value Research, where I look for undervalued names in the oil and gas space. I break down everything you need to know about these companies — the balance sheet, competitive position and development prospects. This article is an example of what I do. But for Oil & Gas Value Research members, they get it first and they get analysis on some companies that is not published on the free site. Interested? Sign up here for a free two-week trial.