Disney Deep Dive: We're Looking At Linear Vs. Streaming All Wrong
Summary:
The official $4 billion loss for Disney streaming is somewhat misleading.
ESPN+ receives a roughly $1.5 billion subsidy per year from Disney+.
It's at least conceivable, if not likely, that ESPN+ is in turn propping up linear ESPN, which could mean streaming is subsidizing linear.
Even if not, the existence of such hidden subsidies shows that the separation of linear and streaming profit is largely arbitrary.
If Disney does try to split off ESPN, it will have to come to grips with this issue and outline for investors and the buyer what it has been doing.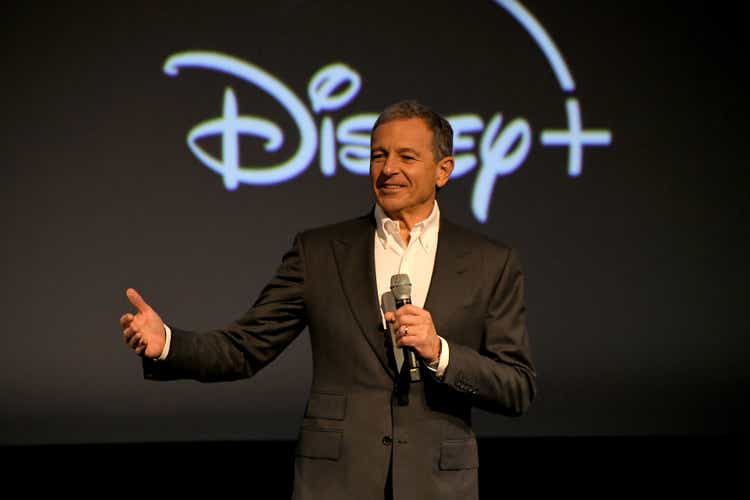 As we prepare for the latest Disney (NYSE:DIS) earnings release – and the first since Bob Iger took over the company again from Bob Chapek – there are understandably a lot of moving parts in the company that investors want to keep an eye on and ask questions about. Almost certainly, some issues will slip through the cracks for lack of time.
One of those, I suspect, will be ESPN+, which is probably hands down the least important of Disney's three streaming services… or at least it appears to be. The $4 2022 billion loss is certainly a major consideration for investors, but they tend to chalk it up to Hulu and the flagship Disney+.
I now believe that this view is fundamentally incorrect. ESPN+ is exerting a very fundamental force on Disney's earnings that we're not perceiving clearly through the haze of the Bundle it is wrapped up in.
Of necessity, this article will feature some substantial mathematical calculations. In order to support my argument it's necessary for us to extrapolate certain key numbers that Disney does not publicly disclose for competitive reasons. I will not dwell on the math longer than necessary, but readers should definitely not skip to the non-math sections. Not this time.
ESPN+ And The Disney Bundle
ESPN+ has already made some news of its own these last few months. Last year, Disney raised the price of ESPN+ from $6.99 per month to $9.99 per month, with a corresponding hike in the annual fee from $69.99 up to $99.99. This increase took effect Aug. 23, so almost exactly half of Q4 FY 2022 was at each of the old and new price points. The end of FY 2022 earnings release saw ESPN+ reporting a $4.84 average revenue per user.
An annual subscription will run a monthly rate of $8.33 after the annual discount, and a monthly standalone subscriber will obviously run at $9.99 per month. But ESPN+ is reporting a number well below either of these benchmarks. Obviously, the Disney Bundle is exerting some considerable drag, as one would expect of a product which is essentially a buy-two-get-one-free scheme.
The size of the drag we can see simply from the reported figures. The implications of it, however, may be more than some appreciate. After examining these figures, I'm beginning to wonder if ESPN+ is not so much a separate service as a subsidy conduit for linear ESPN.
I will explain.
The Dreaded Math Begins: Accounting Rules
In order to report revenue figures individually for threes services which are or at least can be bundled together, you need a method of allocating Bundle revenues to each service. A multitude of possible methods exist, but Disney itself describes its method in its earnings reports:
The average revenue per paid subscriber is net of discounts on offerings that carry more than one service. Revenue is allocated to each service based on the relative retail price of each service on a standalone basis.

—Disney Q4 2022 earnings letter
Basically, the ad revenues are allocated to whichever service got the money, and the subscription revenues are allocated proportionally to baseline price. This means that each service is credited for subscription revenue essentially equal to the Bundle's $13 price, divided by the sum of the headline prices of the three services. This 2022 report dates back to after Disney+ hiked to $8 but before ads were included as well, and after Hulu hiked its prices to $7 but before it hiked again only 367 days later to $8. So that Bundle sum was $22 until the latest ESPN+ price hike, which kicked in halfway through the last earnings period.
The first thing we need to do is note that the halfway price hike on ESPN+ is going to make things a lot harder than they need to be. What I'll do is use the Q3 numbers to make this much simpler. So in our time machine ESPN+ is still $7 and the old Disney Bundle is $14. So that's $14/$22, multiplied by the service's own headline price, in this case $7 for ESPN+. I'll save you a calculator sideshow: ESPN+'s Bundle subscriber ARPU is, well was, $4.45.
That is a rather drastic number, considering that the blended ARPU in Q3 2022 was $4.55. Even if ESPN+ consisted of entirely Bundle and annual subscribers only, i.e., no monthly subscribers, it would have to have a 90% Bundle customer base to produce the ARPU being reported. If it was entirely monthly and bundle, with no annual it would have to be almost 95%!
Breaking Down The Bundle
Annual And Monthly
ESPN+ has three different kinds of subscribers: Bundle, annual, and monthly. Almost certainly most of them are Bundle – they are, as we'll see momentarily – but we still need a way to calculate the impact of the other two.
Disney doesn't say what the proportions are, of course. But when ESPN+ first launched, there was no Disney Bundle. So if we knew what the relative proportions were prior to Disney+ we could at least plug those in.
But before Disney+ launched, streaming wasn't large enough to make Disney break it out separately. So we weren't getting any figures then, either. But there was one lucky break: The Disney earnings report for the first quarter of the Fiscal Year 2020, which ended in December 2019.
The report included the year-ago 2018 numbers for comparison, when there was no Disney Bundle and the only way to get an ESPN+ subscription was to own it separately. ESPN+ reported a $4.67 ARPU in 2018, back when ESPN+ still charged $4.99 per month or $50 per year. Instead of percentages, let's change things up and use fractions: ESPN+'s revenues were exactly 1/15 below what a monthly-only subscription base would look like, while annualized ARPU is 1/6 lower for annual plans. Cross-multiplication tell us that 6/15, or 40% of ESPN+ subscribers were annual subscribers.
We will assume that the non-Bundle subscribers break down in the same proportions today.
Advertising Revenue
Sharp readers may be quick on the draw to note that I'm not assigning anything to the advertising and pay-per-view revenue categories of Disney's streaming sports service. They're right, but there's a good reason for that.
The PPV itself is simple enough: Note 4 of the 2019 report makes clear that ESPN+ "excludes Pay-Per-View revenue." Advertising isn't quite as clear, but Note 5 of the report, "includes advertising revenue," is denoted next to the Hulu revenue figure but not next to the ESPN+ figure.
By itself that might not be enough to completely convince me ad revenue wasn't being counted at the time, but there's more. The March 2020 quarterly earnings report saw a continued Y/Y decline in ESPN+ ARPU, but strangely, also a sudden jump in ESPN+ prior ARPU: The year-ago comparison number was suddenly $5.13. The cause was not a price hike; ESPN+ didn't announce its first price hike until that August. And that number is over even the maximum monthly rate at the time.
It seems likely that Disney began incorporating advertising revenue into ARPU at this time, although there's nothing in the earnings report explicitly saying so. However, the "includes ad revenue" note disappears from the Hulu count at the same time, and we know Hulu has ad money. What's more, three months later, when the June quarterly earnings report had ESPN+ at $4.18, down from $5.33 Y/Y, that earnings report expressly cited "lower per-subscriber advertising revenue" as a cause of the decline. So we know advertising was being included by then.
Disney also later reported that full-year fiscal 2020 ESPN+ revenue was $4.54 per month, a drop from $5.15 the year before. We know that number includes advertising, so a $5.13 in March 2019 is right around where we would expect an advertising-inclusive number to be. The 2019 report did not contain similar disclosures, so we cannot do a direct comparison.
Assuming that the increase in prior-year ARPU from $4.67 to $5.13 Q/Q was a result of incorporating advertising, that would mean that there are $0.46 of ad revenues in the ESPN+ ARPU. Since then we've seen a recession push ad spending down but also seen four years of inflation and increasing Connected TV penetration push it up. I will assume the same number holds true now and these opposing forces cancel out.
Wholesale Discounts
If we subtract $0.46 from the $4.84 Disney reported in FY 2022, we are left with $4.38 in subscription revenue ARPU… a real problem since even the Bundle should be yielding an ARPU of $4.45 even before the recent price hike.
There's a simple explanation for this conundrum: Not all Bundle subscribers pay full price. Disney also engages in wholesale deals.
The most famous of these is the Verizon deal. Disney+ has a long history with Verizon going all the way back to the day it was launched when Verizon included one-year subscription free to Disney+ with all its unlimited plans. Verizon now provides the full Disney Bundle included in all but its most basic Unlimited plans
With Verizon holding one-third of the US cellular market and reporting that its Unlimited penetration had reached 78% of the subscriber base in June, Verizon Unlimited's share of the US's 120 million households could come to 31 million subscribers all by themselves.
Not everyone takes the deal, obviously. But these offers probably have a lot to do with pulling Bundle ARPU low enough for our calculations to make any sense at all.
We don't know the precise terms of the Verizon deal, just that it was executed "on a wholesale basis." Disney has indicated that wholesale deals are typically lower-rated than even third-party platform deals, and Verizon has said it gets about a 30% discount on the services it offers relative to retail pricing.
I will assume that two-thirds of Bundle subscribers are paying 30% reduced rates and one-third are at full price. That would produce a blended rate discount on Bundle pricing of 20%. This means that the real Bundle ARPU for ESPN+ is $3.56 plus the $0.46 ad money, or $4.02.
Putting It All Together
Meanwhile, non-Bundle ARPU pencils out like this:
We can finally put it all together. The non-Bundle customers, with a fixed 60/40 monthly annual split and a set ad revenue rate, are going to average out at $6.99 ARPU. The Bundle we already know is $4.02. To produce a $4.55 blended ARPU, over 82% of ESPN+ customers were Bundle customers and the rest were buying ESPN+ directly.
ESPN+ Is A Minus For Streaming
At 24.3 million subscribers at the end of Q4, that means Disney has roughly 20 million Disney Bundle subscribers, getting all three services at a reduced rate. But more interesting is the converse of these numbers. Look how the non-Bundle numbers for the other two services compare to ESPN+:
If we assume that these numbers are the true reflection of how much value consumers attach to each service, then ESPN+ should only be getting 7.4% of the Bundle sub revenue, not 32% of it. Almost 80% of the Bundle "revenue" ESPN+ is reporting is in fact misallocated Disney+/Hulu revenue. With Bundle customers representing 82% of the total, this means that over 65% of ESPN+'s total sub revenue is not really its own revenue.
This means that as much as almost $1 billion of FY 2022 revenue is being wrongly allocated to ESPN+. With the recent major price hike, the corresponding figure for FY 2023 may well be $1.5 billion.
But A Plus For… Linear?
But that leaves one final question. How, with such a massive flow of money, to explain this statement from Disney's earnings report:
The increase in (streaming) operating loss was due to a higher loss at Disney+, lower operating income at Hulu and, to a lesser extent, a higher loss at ESPN+

–Disney earnings report
With that massive subsidy stream, ESPN+ is still reporting a loss? This can't be right. It would require massive content expenditures for ESPN to be losing money with such a subsidy.
Content Expenditures
To be sure, ESPN+ is spending money on content. In addition to making ESPN+ the new home for PGA Tour Live, the new NHL deals signed by Disney in partnership with Turner make ESPN+ the exclusive home of the NHL out-of-market package. However, the flagship NHL content, including most national matches and all playoffs, remain with ESPN linear.
And there's also still those UFC exclusives – though they may be a little less profitable than they used to be. ESPN is paying $300 million per year for the UFC, a substantial hike on Fox's previous payments. As part of that deal, ESPN+ became the exclusive home of UFC pay-per-view events, an exclusivity which presumably has some value. When ESPN+ hit 2 million subscribers in early February 2019, it included some 600,000 fans who were drawn to the service's new UFC content.
But the main TV events are still exclusive to ESPN linear. Much like college football, where ESPN+ is getting access to over 500 college football games…but only one game per team from the flagship SEC conference. The rest are linear-exclusive.
And we can't forget about the NFL. For the past two seasons, ESPN has allowed ESPN+ to simulcast a considerable portion of the flagship channel's flagship program, Monday Night Football. But it's still well short of all of them – so few NFL fans are canceling their pay-TV subscriptions, ensuring that ESPN is still getting paid.
The pattern is consistent. ESPN+ gets substantial access to content, but never quite enough to make it a viable alternative to the flagship channel. Not surprising, considering ESPN's central role in Disney's profit stream. To be sure, there are some small truly shared properties. ESPN's new lacrosse deal guarantees full streaming simulcasting on ESPN+. But that is very much the exception.
Just Not Big Enough
And anyway, these deals in their entirety don't get you anywhere near the number needed to produce a loss. ESPN's entire SEC deal only comes to $300 million per year. UFC is the same, the NHL deal is barely any more. The PGA deal was higher at $680 million… but ESPN accounts for only a small fraction of that.
The only deal that actually has a ten-figure sum is the NFL renewal. But with only some games being accessed, and those on a non-exclusive basis, with only one quarter as many subscribers as ESPN, how much should ESPN+ really be paying for that?
Altogether, it's hard to believe that ESPN+ spending on true streaming content is anywhere near that subsidy figure. In order to generate a loss with such a large revenue subsidy attached, it seems likely that ESPN is sub licensing its content to ESPN+ at a substantial markup. Because duplicate expenditures are eliminated in reconciliation when Disney reports earnings, this has the effect of making linear profits at Disney seem higher than they really are.
Accounting Vs. Reality
With Disney+ and Hulu overpaying to be included in a bundle with ESPN+ and ESPN+ in turn overpaying to be included in ESPN's content deals, one plausible interpretation of this data is that there's a hidden subsidy going from streaming to ESPN linear, with ESPN+ essentially acting as a middle man. That's hard to be certain of with such limited data, but that's my best guess.
To be clear, I am not accusing Disney management of anything improper. There are a multitude of ways accountants allocate revenue to component subcategories and Disney's isn't even all that uncommon.
The real message here is just how ridiculous the whole streaming/linear division is, which is something I've also pointed out in other contexts before with other major media companies. When media deals are selling a bundle of streaming and linear rights and you can literally pick from a dozen different ways of splitting the cost between the two, what significance does the accounting really have?
The only meaningful number is the combination of streaming and linear profit figures – which for Disney have declined precipitously, by almost half, over the past few years. The breakdown between them just isn't that useful to us, because we can't see the internal transactions that give rise to it.
Investment Summary
Even so, this issue will become very important if Disney does indeed try to sell ESPN and presumably ESPN+ along with it. The sale would mark the effective end of the Bundle and cut off the subsidy stream to ESPN we've hypothesized exists here. If Iger does intend to sell ESPN, we need to know how he plans to address the Bundle payments component before we – or, more importantly, any potential buyers – can even begin to assess what it's worth.
There's nothing improper about what Disney is doing, but it' reporting methods probably are failing to reflect the economic reality. Since that's the only reality we as investors should care about, this issue will bear careful monitoring for all Disney investors going forward.
---
Disclosure: I/we have no stock, option or similar derivative position in any of the companies mentioned, and no plans to initiate any such positions within the next 72 hours. I wrote this article myself, and it expresses my own opinions. I am not receiving compensation for it (other than from Seeking Alpha). I have no business relationship with any company whose stock is mentioned in this article.
---