Exxon Ends Algae Biofuel Quest, What It Implies Long Term
Summary:
In a bid to better align with a green path demanded from within the boardroom and from outside, Exxon went on a hydrocarbons divestment spree in the past year.
Hopes that green replacement initiatives will fill the void left by the abandonment of hydrocarbons were in part dashed as it seems it is no longer pursuing algae-based biofuel production.
Between a lack of new conventional oil & gas discoveries, divestments, as well as failing green paths, Exxon may be on the cusp of a permanent upstream volume production decline.
Upstream decline prospects are more of a long-term investment issue. This year and next, Exxon may see its best financial results ever, with record profits & revenues, on the back of rising oil & gas prices.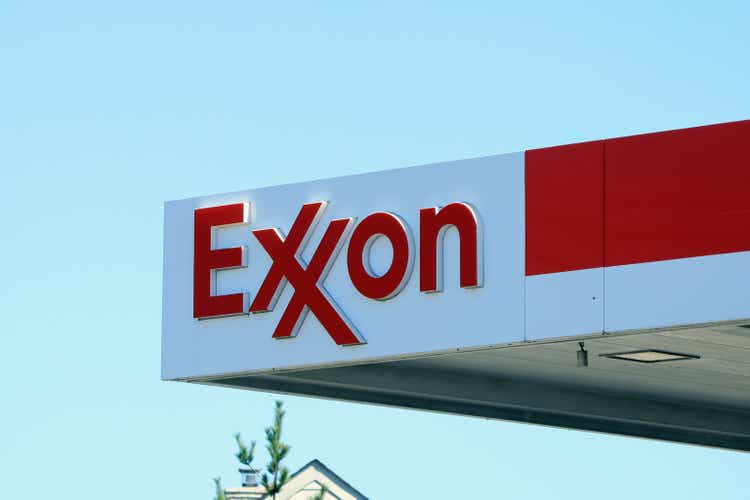 Investment thesis
Exxon Mobil (NYSE:XOM) just saw a massive financial results improvement in 2022, and I expect the stellar results to last this year as well as next, on the back of robust oil & gas prices. Beyond these years, however, a number of divestments, and a lack of robust exploration returns, which is a widespread global phenomenon throughout the industry will probably lead to the start of a permanent trend of upstream production decline. To make matters worse, it seems that its hopes for algae biofuel production prospects for the future, which could have potentially offset declining oil & gas production have been recently dashed. It abandoned its partnerships and it is seemingly closing the books on the entire concept. The one thing that it has going for it seems to be the fact that much of the rest of the global oil & gas industry seems to be even worse off in terms of upstream reserves, therefore any future hydrocarbon production will be sold at a permanently higher price.
Exxon's impressive results in 2022 are likely to be repeated this year and next
Exxon's 2022 results were so impressive that together with the results reported by a number of other oil majors, it helped to trigger a call for extra taxes to be levied on oil & gas companies. Net earnings for the year came in at $55.74 billion, which was more than double the net earnings it had in 2021. Revenues came in at $399 billion which was also a significant improvement on Exxon's 2021 results, where revenues came in at $277 billion.
Upstream production was flat at 3.74 mb/d in oil equivalent, so Exxon's performance was mostly courtesy of higher oil, gas, & LNG prices last year, as well as better downstream results. There is currently no indication that oil, gas & LNG prices will be much softer this year or next year than last year, therefore we could see a repeat of the 2022 financial results that Exxon achieved last year. Things may be looking far less appealing from an investor's point of view by 2025, or perhaps just a few years after.
Exxon's divestments, and lack of success in exploration, make the recent news about its abandonment of algae-based biofuels production plans all the more consequential for its long-term prospects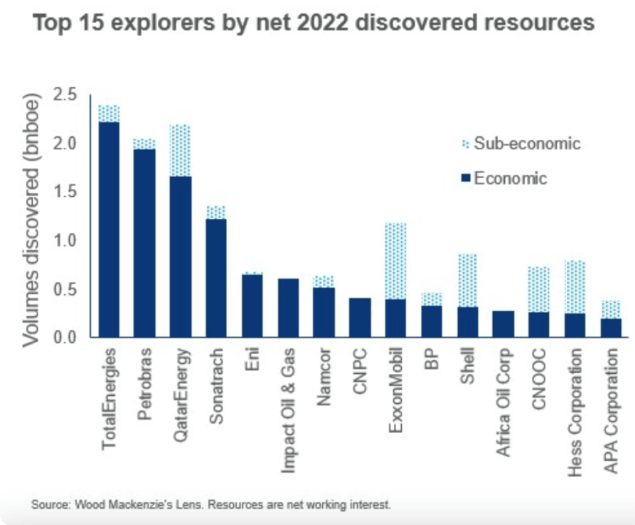 As the chart above shows, Exxon's total volume discoveries of oil & gas last year were somewhat decent, more or less equivalent to the volumes of oil & gas that it produced last year. The problem seems to be that most of it is deemed to be uneconomical to produce. The portion of its discoveries that is economical is far below resource replacement rates. It should be noted that last year was the best year in over a decade in terms of global oil & gas discoveries, at 20 billion barrels of oil equivalent. That is less than half of all the conventional oil & gas produced worldwide last year.
Whether through exploration, acquisitions or any other means, oil & gas companies are finding it increasingly hard to replace reserves that were produced or divested from. Exxon also introduced a $25 billion divestment plan not long ago, where significant upstream reserves were put up for sale. Upgrading of upstream assets to proven reserves has been one of the main factors keeping global reserves levels from declining, even though this century so far, we have not had a single year where global oil & gas discoveries combined exceeded global production volumes. It may be the case also with Exxon that at least some of those large uneconomical volumes of hydrocarbon discoveries it had last year will be upgraded to proven reserves, on the back of some engineering solutions, higher oil & gas prices, and so on. It is however increasingly clear that just like much of the rest of the global oil & gas industry Exxon is starting to have a serious reserve replacement problem. 2022 may turn out to be a better-than-average year in this regard, at least for the decade, for Exxon as well as for the overall global oil & gas industry.
Given that global oil & gas discoveries have been far below production levels for the entire 21st century, it should come as no surprise that most oil majors eagerly embraced the concept of exploring alternatives. For instance, green hydrogen could replace natural gas in electricity generation as well as other needs. Algae-based biofuels were seen as a promising potential replacement for crude oil as a liquid fuel. Exxon's recent decision to part with its joint partnerships in this field suggests that at least this aspect of its renewable energy strategy is a dead end.
It was thought once upon a time that algae farms could provide a potentially inexhaustible source of renewable biofuels, which will make the need for crude oil obsolete at some point when factoring in all other trends such as EVs and so on. For Exxon, this could have been a way to compensate for what is likely to be an impending sustained decline in its hydrocarbon production. Exxon's oil & gas production is stagnated right now, and its viable resource base is seemingly in decline, making future production declines a certainty, at some point within the next few years. While it is by no means faced with a situation as dire as Shell's (SHEL) for instance, where its upstream segment is already in steep decline, with no hope of reversal.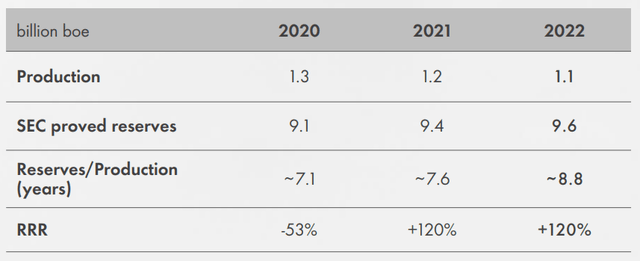 As we can see, Shell's upstream production decline is almost 10% per year. Exxon is nowhere near reaching that stage yet, with its total production being comparable with Shell's, while its reserves are about double in volume compared with Shell's. Exxon's upstream situation is by no means anywhere near as critical as that of many of its peers, but it is more than likely that as some point in the second half of this decade, it will start to experience sustained production declines. Algae-based biofuel production could have potentially partially or entirely compensated in terms of liquid fuel production volumes, but it seems that it was not meant to be.
Investment implications
Taken out of context Exxon's exit from its exploratory joint projects on algae-based biofuels would not have much significance. Within the context of shrinking upstream production growth prospects, with an impending decline being more likely than an increase in production in coming years, a breakthrough in algae-based biofuels would have been a very welcome development. Now we know that it will not happen for Exxon or for its industry peers.
In the short run, Exxon has the resource base to maintain current oil & gas production levels, at least for the next few years. The global oil & gas market outlook continues to look favorable, so on the back of steady production, and favorable oil, gas & LNG prices Exxon is set to continue reporting stellar results. Beyond this year and next, things may get more complicated, as it is probably likely that Exxon will start to experience upstream production declines. If viable, profitable algae-based biofuel production would have started to trickle in, it could have compensated, but now we know there will not be any such replacement for any lost hydrocarbon production in the future.
Editor's Note: This article discusses one or more securities that do not trade on a major U.S. exchange. Please be aware of the risks associated with these stocks.
---
Disclosure: I/we have no stock, option or similar derivative position in any of the companies mentioned, and no plans to initiate any such positions within the next 72 hours. I wrote this article myself, and it expresses my own opinions. I am not receiving compensation for it (other than from Seeking Alpha). I have no business relationship with any company whose stock is mentioned in this article.
---