Google's Artificial Intelligence Is Not Quite That Intelligent Yet
Summary:
From now on, Google will have to move forward with a perpetual headwind from AI for its most lucrative business, Search.
Google seems to be in the perfect storm consisting of a cyclical downturn, antitrust litigation, competition in artificial intelligence and economic headwinds.
Google is still in the closed beta phase for its AI model and does not have the pioneer advantage currently enjoyed by ChatGPT and Bing/Microsoft Edge.
We have our doubts about LaMDA's capabilities compared to its competitors based on analyzing yesterday's announcements and internal memos.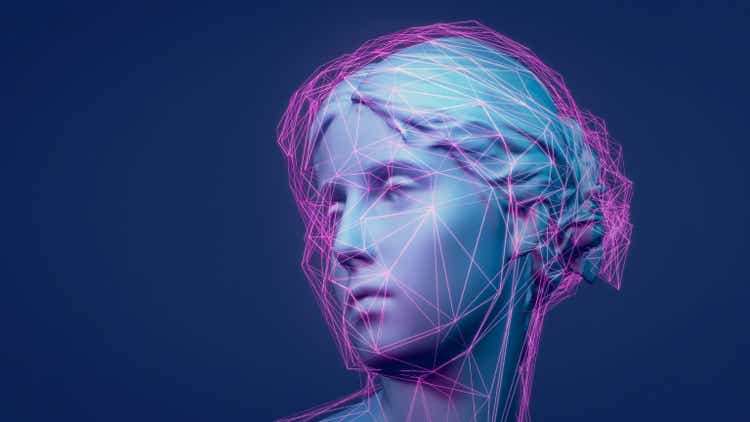 Alphabet/Google (NASDAQ:GOOG) (NASDAQ:GOOGL) is off to a rocky start this year, with this year marking a year of uncertainty for Google as it faces multiple serious threats from multiple fronts to what once seemed like an untouchable company and a tremendous cash cow.
Despite all these woes, Alphabet is still up 6.8% YTD. Although, we think this rally may weaken further as we see that Microsoft Edge with Bing may actually have the edge over Google this time. This article will explain why investors really need to critically rethink their long-term thesis on Alphabet as it comes under attack on multiple fronts including antitrust, artificial intelligence, search and growth.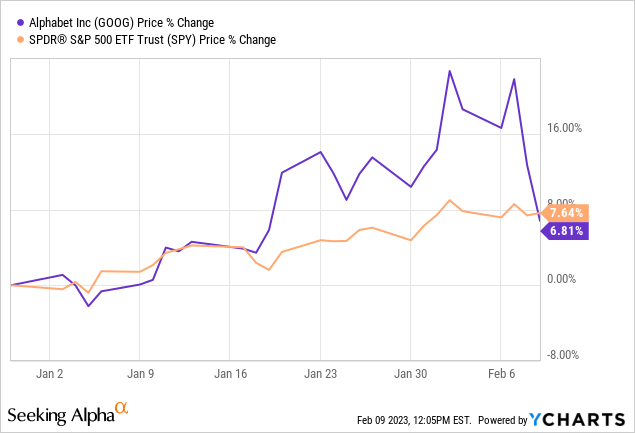 Microsoft Edge Has The Edge?
Business got off to a slow start this week when Google announced the rollout of its own conversational AI, called "Bard," powered by Alphabet's "LaMDA." LaMDA, like ChatGPT, is a large language model. However, both differ because they have different training data sets and different use cases. For example, LaMDA is supposed to be better for generating responses in a conversational setting, while ChatGPT is supposed to be best for generating open text.
Last year, for example, Google and one of its AI engineers received massive comments on whether the AI they created was sentient. Blake Lemoine, the Google engineer, while working with LaMDA, came out with claims as to why his system could be seen as sensitive and why stronger AI ethics should be imposed. This event also, in our opinion, set a very high bar for where Google was expected to stand in terms of advancing its AI, as some claimed it had human-like behavior.
Until earlier this week, when Google decided to introduce "Bard," which got off to a sloppy start. Not only was yesterday's presentation rather un-Google-like, they even ran into technical complications during their live unveiling in Paris, France. Moreover, users already noticed an error in one of Google's slides testing their new AI.
In the ad, Bard was asked what discoveries from the James Webb Space Telescope someone might tell their 9-year-old. One answer was, "JWST took the very first pictures of a planet outside our own solar system." This statement is false, confusing, or both.
When we took that question to ChatGPT, and asked who took the very first photo of a planet outside our own solar system, it came up with the actual answer, plus some context so users could fully understand what the answer consisted of. The first real photo was actually taken in 2004 by the Very Large Telescope.
While it could be argued that Bard meant that James Webb itself first confirmed the presence of an exoplanet earlier this year around Jan. 11, we believe the statement is still either inaccurate or very poorly worded, raising doubts about the capabilities of Google's "human-like" AI model.
On the other hand, Google does seem to be shifting gears, with their latest Q4 earnings call mostly revolving around these AI threats to Search.
Quality Vs. Quantity
While much is still unknown about LaMDA, we like to be a bit on the cautious side with this issue. This case also oddly reminds us of how DeepL, a Deep Learning translation software launched only in 2017, managed to beat big companies like Google and Amazon at their own game.
This while it had limited funding and operated with a small but talented and focused team. In fact, DeepL had just 43 employees in 2019. And yet, just like then, ChatGPT, which is only 7 years old, seems to be beating Google in their own game again.
To make matters worse, OpenAI also appears to have a pretty funny weapon: hiring ex-Google engineers. Apparently, months before the launch of ChatGPT, OpenAI quietly hired 5 ex-Google AI employees to tweak the model before launch. Some people might realize that these AI experts, who know the long-term impact of AI, probably want to be on the most promising team possible. And as it stands, that appears to be OpenAI, as some Google employees appear to be abandoning ship.
Especially for positions like that, as top-notch AI engineers, compensation alone may not be enough. There is a reason why engineering graduates prefer SpaceX to NASA or Tesla (TSLA) over Exxon Mobil (XOM) to work at in the future, despite the fact that they are known for an environment where working around the clock is the norm.
People may prefer satisfaction and pride to compensation and bureaucracy at larger companies in certain situations. Perhaps in this story, with quality over quantity, Google ends up in a split to hire or keep its top talent.
For those disbelievers in AI, who are still skeptical about its possibilities and future potential: it is not a buzzword. We know that AI emerged in 2021 along with other things that have already proven to not really stand the test of time, such as NFTs, crashing cryptocurrency markets and fraudsters, along with many profitless tech companies that falsely promoted the word innovation. With any technology, much of the future can be inferred from how quickly the technology is adopted.
And with AI, specifically ChatGPT, it is actually not a misnomer to call it a paradigm shift for the first time. It even smoked TikTok, which experienced an astronomical rise and posed a serious threat to Meta (META). In the same light, it took only 2 months for ChatGPT to reach 100M active users.
Rarely in recent history is a technological software innovation so far-reaching that a large-scale company that developed it sometimes cannot keep up with demand and is often still running at capacity.
At a time with short term treasury yields that used to be close to 0, and virtually very easy to obtain financing, that is a pretty rare phenomenon. The last time we saw such a phenomenon, Zoom Video (ZM), a fairly small and lesser-known company back then, smoked Google and Microsoft during the pandemic on scaling and bringing people together through virtual conferences.
And we know what happened then: users who switched to Zoom mostly stayed with the provider. Massive companies like Google with Google Meet and Microsoft initially with Skype (and Teams perhaps) were outpaced by less bureaucratic, more innovative companies.
To throw even more oil on the fire, Bing, which has lost market share in search and ignored for most of the decade, is throwing shots back at Google. They have released their new Bing application, which integrates OpenAI's language model, and is probably even powered by their latest GPT-4 AI.
Therefore, like ChatGPT, which is currently running at full speed, we expect many users to try out the new search engine and possibly migrate. Bing is actively rolling out the software and has a waiting list. Unfortunately for Google, they are accelerating this process by giving people even earlier access if they have default Microsoft on their PC and the Bing App on their phone.
Perhaps Microsoft Edge does indeed, as the name suggests, have an edge over Google as we see the landscape evolving now.
An internal Google memo about the ChatGPT threat clearly states that it takes priority over other projects, and even warns that some employees "will no longer attend certain unrelated meetings."
But how is it that such a large company like Google was seemingly surprised by the review of internal memos? We also don't understand why Google also seems to be proud that this issue is a "code red."
All this "code red" currently means to us is that Google has indeed been overrun and is currently in panic mode, trying to keep up with the competition. This is very different from its previous monopoly, where it had no such things to worry about.
At a recent all-hands meeting, employees raised concerns about the company's competitive edge in AI, given the sudden popularity of ChatGPT (Google all-hands meeting)
Do employees' concerns about the company's competitive advantage mean they believe ChatGPT is superior? Only time will tell, but we do not find it a reassuring statement. Currently, Bard is in a closed beta phase, and we are actively following Google's developments and actions of competitors.
The Trillion-Dollar Question
If we look at what is at stake, it is quite substantial. Google Search accounts for 58.1% of revenue and about 61.5% of Google's free cash flow.
Currently, Google controls approximately 93% of the search market and has a historical gross margin that averages about 55%. However, Nadella believes this will start to decline and said in a recent FT interview:
From now on the [gross margins] in search are going to drop forever. (-Satya Nadella)
Looking at the company as a whole, 61.5% of Google's FCF roughly attributed to their search business would generate free cash flow worth $36.91 billion, based on their FCF worth $60.01 billion generated in 2022 (CFO-CapEx). Putting a conservative 18x P/FCF multiple on that number would put a potential $664BN in market cap at stake, and several A.I. models vying for it.
Because search is such a large part of Alphabet's business, and its most lucrative product, we are quite cautious about the company. But let's say that in the worst case scenario Alphabet loses 50% of its search business if it isn't able to move forward with AI, the company would lose $332BN in market cap.
The market has already priced in this risk heavily in recent days, with a wiped-out market cap of more than $150 billion. On one hand, we wouldn't call it an overreaction, but on the other hand, it's not like Google shares are trading at excessive multiples.
It remains to be seen what the end game looks like for all these players in this market. There are multiple ways to make money through ads, perhaps through subscriptions, based on volume or something else.
Can't Catch A Break
Finally, there is one final headwind that should not be taken lightly: Google's antitrust problems. There is a great saying that a journalist in the DOJ meeting coined, and it goes like this: one episode is a story, 3 are a trend. And right now, Google's antitrust problems do seem to be a trend.
Just recently, on Jan. 24, the DOJ sued Google again, this time for "monopolizing digital advertising technologies." It seems Google really can't catch a break. The DOJ followed with this response:
Today's complaint alleges that Google has used anticompetitive, exclusionary, and unlawful conduct to eliminate or severely diminish any threat to its dominance over digital advertising technologies. (-Department Of Justice)
This is not Google's first rodeo, as in October 2020 the company was already sued once by the DOJ for antitrust violations. In the EU, Google has also been under fire: in 2017, the company was fined $2.7 billion for abusing its dominant position in the online search market.
With other AI companies nipping at the company's heels and government agencies suing Google over its monopoly in the search market, this may also create further obstacles, as major future A.I. Search acquisitions may attract more criticism as Google tries to protect this monopoly.
Of course, one of Google's huge advantages is their gigantic balance sheet, with $113.76 billion in liquid assets. But the question remains whether and how efficiently they can use that money in the pursuit of AI.
The Bottom Line
With even Sergey Brin and Larry Page returning to Google to approve plans for adding chatbot features, it seems that Google has found itself in some hot waters. Unfortunately, it seems that as of now we have to reckon with A.I. as a perpetual headwind in the future, which is very different from the steady or never-ending growth in operating margins we have seen over the past decade.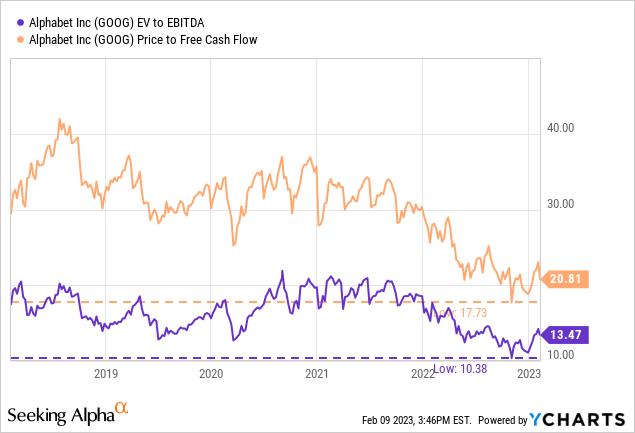 Google is currently like a double-edged sword: the company has everything at stake, because they are Google, and have to go slow. They cannot risk presenting users with wrong information. But at the same time, they have to move fast and break things, just as the competition manages to do so.
We are currently waiting cautiously and giving the stock a hold rating pending the rollout of their AI models, and how the competition will react. But if the stock becomes too cheap to ignore, we may consider it a buy in the meantime. We think if the company gets closer to its lows with an EV/EBITDA ratio approaching 10 and a P/FCF approaching 18, it could be time to dabble again.
---
Disclosure: I/we have no stock, option or similar derivative position in any of the companies mentioned, and no plans to initiate any such positions within the next 72 hours. I wrote this article myself, and it expresses my own opinions. I am not receiving compensation for it (other than from Seeking Alpha). I have no business relationship with any company whose stock is mentioned in this article.
---